2018 | OriginalPaper | Buchkapitel
Feature Resolution by Lists: The Case of French Coordination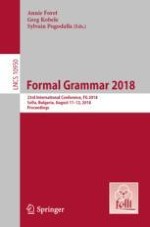 Autoren: Gabriel Aguila-Multner, Berthold Crysmann
Verlag: Springer Berlin Heidelberg
Abstract
In this paper, we shall address resolution of gender and person in French coordination and suggest that a list-based encoding of feature values provides for a very simple and intuitive resolution mechanism in coordinate structures by means of simple list concatenation, while it leaves the treatment of agreement in head-compositional structures entirely unaffected. We shall discuss the implementation of this approach in the context of an emerging computational HPSG of French based on the LinGO Grammar Matrix (Bender et al.
2002
), and argue that the problem at hand calls for concatenation by recursive copying (Emerson
2017
), as opposed to difference lists (Clocksin and Mellish
1981
). Finally, we conclude that the list-based encoding of person and gender values can act as a drop-in replacement for the standard sort-based encoding, since it is not only more flexible in the treatment of feature resolution, but also bears the further potential of representing more elaborate person systems, like the inclusive/exclusive distinction.