20.08.2018 | Ausgabe 3-4/2018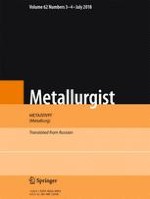 Features of High-Strength Pseudo β-Titanium Alloy VT47 During Strengthening by Heat Treatment
Zeitschrift:
Autoren:

N. A. Nochovnaya, A. A. Shiryaev, E. A. Davydova
Wichtige Hinweise
Translated from Metallurg, No. 3, pp. 77–83, March, 2018.
Actual information is provided about formation of structural defects typical for highly-alloyed titanium alloys, i.e., α-phase precipitate-free zones. The effect of these defects on the mechanical properties of pseudo β-titanium alloys is considered. The structure is studied for a new pseudo β-titanium alloy VT47 and a correlation is established for mechanical properties and presence of these zones within the structure. x-Ray microanalysis is used for an analytical study of the local chemical composition of alloy VT47 that makes it possible to establish that formation of precipitate-free zones the main and most important features is not connected with the different chemical composition in in the test ranges of alloying element concentration for the zones themselves and areas adjacent to them.