2016 | OriginalPaper | Buchkapitel Open Access
6. Federated Simulations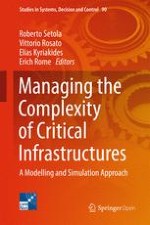 Autoren: Wim Huiskamp, Tom van den Berg
Abstract
The integration of simulation components into a federated, interoperable simulation environment introduces a large number of engineering challenges. Many of these challenges are technical issues, but there are also several challenges from the project management perspective. For example, when simulation components are provided by different organizations from different domains there is a need to ensure coordinated and timely interaction among these organizations, and a need for a common view on the engineering process. Recognizing and mitigating these technical and project management issues are critical to controlling risk across a simulation development effort. This chapter provides an overview of several standards that have been developed over time in the area of distributed (or federated) simulation. These standards address both simulation environment architecture and engineering process. This chapter starts with an introduction to distributed simulation, followed by an overview of:
the High Level Architecture (HLA), a technical standard for distributed simulation environments;

the Distributed Simulation Engineering and Execution Process (DSEEP), an engineering process to address the needs of a very large and diverse user community in the engineering of distributed simulation environments;

the Federation Agreements Template (FEAT), a standardized format for recording simulation environment agreements to increase their usability and reuse.