2017 | OriginalPaper | Buchkapitel
3. Federation Development At-A-Glance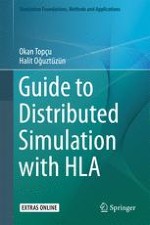 Erstes Kapitel lesen
Autoren: Okan Topçu, Halit Oğuztüzün
Abstract
In this chapter, we elaborate for beginners how to start developing an HLA compliant simulation from scratch. In this respect, this chapter presents some practical guidelines and hints. Please keep in mind that we are not trying to present a full simulation development process, such as FEDEP (IEEE Std 1516.3-2003 in Standard for IEEE Recommended Practice for High Level Architecture (HLA) Federation Development and Execution Process (FEDEP). IEEE,
2003
) or DSEEP (IEEE Std 1730-2010 in IEEE Recommended Practice for Distributed Simulation Engineering and Execution Process (DSEEP). IEEE, New York, NY,
2010
). We advise you to refer to (Topçu et al. in Distributed simulation: A model driven engineering approach. Springer International Publishing, Cham(Zug),
2016
) for a full-blown federation development process model based on Model-Driven Engineering (MDE) principles.