2008 | OriginalPaper | Buchkapitel
48. Feedback Control in Hearing Aids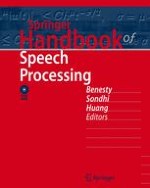 Erstes Kapitel lesen
Autoren: Dr. Ann Spriet, Ph.D Simon Doclo, Prof. Marc Moonen, Prof. Jan Wouters
Verlag: Springer Berlin Heidelberg
Abstract
Acoustic feedback limits the maximum amplification that can be used in a hearing aid without making it unstable. This chapter gives an overview of existing techniques for feedback suppression and, in particular, adaptive feedback cancellation. Because of the presence of a closed signal loop, standard adaptive filtering techniques for open-loop systems fail to provide a reliable feedback path estimate if the desired signal is spectrally colored. Several approaches for improving the estimation accuracy of the adaptive feedback canceller will be reviewed and evaluated for acoustic feedback paths measured in a commercial behind-the-ear hearing aid.
This chapter is organized as follows. Section
48.1
gives a mathematical formulation of the acoustic feedback problem in hearing aids and briefly describes the two possible approaches to reduce its negative effects, i.e., feedforward suppression and feedback cancellation. In addition, performance measures for feedback cancellation are defined.
Section
48.2
discusses the standard continuous adaptation feedback (CAF) cancellation algorithm that is widely studied for application in hearing aids. We demonstrate that the standard CAF suffers from a model error or bias when the desired signal is spectrally colored (e.g., a speech signal). In the literature, several solutions have been proposed to reduce the bias of the CAF. A common approach is to incorporate signal decorrelating operations (such as delays) in the signal processing path of the hearing aid or to reduce the adaptation speed of the adaptive feedback canceller. Other techniques, discussed in Sect.
48.3
, exploit prior knowledge of the acoustic feedback path to improve the adaptation of the feedback canceller. In Sect.
48.4
, a final class of techniques is presented that view the feedback path as a part of a closed-loop system and apply closed-loop system identification theory [
48.1
]. Among the different closed-loop identification methods, especially the direct method is an appealing approach for feedback cancellation. In contrast to the other methods, this technique does not require the use of an external probe signal. The direct method reduces the bias of the feedback canceller by incorporating a (stationary or time-varying) model of the desired signal
x
[
k
] in the identification.
Finally, Sect.
48.5
compares the steady-state performance as well as the tracking performance of different algorithms for acoustic feedback paths measured in a commercial behind-the-ear hearing aid.