01.12.2011 | REVIEW | Ausgabe 4/2011 Open Access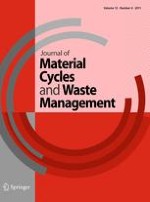 Feedstock recycling of waste polymeric material
Zeitschrift:
Autoren:

Guido Grause, Alfons Buekens, Yusaku Sakata, Akitsugu Okuwaki, Toshiaki Yoshioka
Wichtige Hinweise
Dr. Buekens is Prof. Emeritus, Vrije Universiteit Brussel, Brussels, Belgium.
Introduction
We are eagerly anticipating the 6th International Symposium on Feedstock Recycling of Polymeric Materials (ISFR), which will be held this year in Toledo, Spain, from the 5 to 7 October. More than a decade has past since the first ISFR meeting in Sendai, Japan, in 1999 (Table
1
). Since the symposium has consistently had its focus on special issues published in the
Journal of Material Cycles and Waste Management
, it has provided us with the opportunity to review the major challenges and perspectives of the day, reflecting on the special issues and related publications from other journals.
| | |
| --- | --- |
| Sendai (Japan) | 1999 |
| Ostend (Belgium) | 2002 |
| Karlsruhe (Germany) | 2005 |
| Jeju Island (South Korea) | 2007 |
| Chengdu (China) | 2009 |
| Toledo (Spain) | 2011 |
One issue consistently given a lot of attention over the years is the dehalogenation of waste plastics, which can be divided into two large fractions, municipal waste and waste electric and electronic equipment (WEEE). Notably, about 30% of the first ISFR was dedicated to the dehydrochlorination of PVC [
1
], and it has remained an important topic during all the conferences since then. The other topics covered in the first ISFR included degradative extrusion, depolymerization, solvolytical processes, and petrochemical processes. While the topic of degradative extrusion has lost relevance, other topics of interest have come to the forefront. Besides mechanical recycling and life cycle assessments, political and social aspects have been discussed, and they all have gained more attention over the years. In the 5th ISFR in Chengdu (China), the degradation of biomass was added to the program, completing the scope of polymeric materials that can be employed for the recovery of fuels and chemicals.
Over the course of the last 10 years, new processing techniques have been developed and employed in the recycling and degradation of plastics. The dehydrochlorination of poly(vinyl chloride) (PVC) by microwave radiation [
2
,
3
], the depolymerization of various polycondensates and adducts [
4
–
6
], as well as the dehydrochlorination of PVC [
7
] in ionic liquids, and the separation of PVC and poly(ethylene terephthalate) (PET) from mixed waste plastics by froth floating after a surface treatment [
8
] are just a few examples of applications of these innovative techniques.
Another tendency seen over the last decade or thereabouts has been the utilization of waste for the treatment of other sorts of waste. Oyster shells with their high CaCO
3
content were employed in the mechanochemical dehydrochlorination of PVC [
9
], while HCl derived from the thermal dehydrochlorination of PVC can be used for the volatilization of metals that form volatile chlorides, i.e., InCl
3
was recovered from liquid crystal displays [
10
]. All these results show the possibility to minimize waste by constructing an integrated waste management system.
Therefore, the value of plastic waste should not be assessed only in terms of its valuable metal content (i.e., WEEE) or the fuel or chemicals that can be obtained from its degradation. The inherent specific properties of waste material should also be considered as a source of added value. Here we will outline the progress that has been made over the last 10 years in different fields of feedstock recycling and look at how approaches have changed during this time.
Liquefaction and pyrolysis
The aim of liquefaction is to yield gas and oil as a source of fuels and chemicals and waxes in the form of chemical compounds. Gasification, on the other hand, will be discussed in a separate section, since the aim of gasification is to yield gases such as hydrogen and carbon monoxide as a source for the production of chemicals or fuels, even though the processes involved are quite similar to those used in pyrolysis. The techniques employed in the production of activated carbon are very similar to those used in gasification. Steam, oxygen, and carbon dioxide are used for the reactive activation of char. Therefore, this process will be discussed together with gasification.
Furthermore, liquefaction can be conducted in the presence or absence of catalysts. While thermal decomposition is characterized by the radical fission of the polymer backbone, in the presence of a catalyst, charges are frequently involved that reduce the reaction temperature and alter the product distribution. Therefore, both processes are dealt with in separate sections.
Thermal decomposition
The efficiency of a recycling process depends strongly on the composition of the waste material that can be provided. A good feedstock consisting of one component allows the production of a defined product during its thermal degradation. In many cases, monomers can be recovered in high yields, as has been shown for poly(methyl methacrylate), polystyrene, poly(tetrafluoro ethylene), and some other polymers. Unfortunately, feedstock like this is rare, and, in general, obtained from fabrication reject. Also, even in these productive cases, additives tend to reduce the quality of the resulting product. However, the reality in waste plastic recycling is mixed waste, the kind of waste we find in the plastic fraction of municipal solid waste (MSW): it has a high content of polyolefins [high-density polyethylene (HDPE), low-density polyethylene (LDPE), polypropylene (PP)], polystyrene (PS), and a smaller amount of PVC and PET in changing compositions. This plastic fraction also contains other foreign materials like paper, metal, and glass, which may also have an impact on the product distribution. Generally, monomer recovery from a mixed plastic fraction is not feasible economically because of the high costs of product separation. Therefore, mixed plastics are commonly considered as a source of oils and gas, both of which can be used as fuels [
11
].
Several points have to be taken into consideration if pyrolysis is chosen as the waste treatment method. First of all, every kind of plastic has its own degradation behavior. There is no golden solution that provides an optimum for every plastic in a mixture or can be applied to various single plastics using the same process at the same conditions. The optimal temperature for a certain plastic might result in insufficient degradation of another plastic. It might also cause the degradation of a desired product or result in a secondary reaction between degradation products. The second point is that some plastics have a negative effect on the technical process or the product quality. PVC releases corrosive HCl gas during the degradation process, which does harm to the treatment facility. Due to the corrosive character of chloride, it also has to be limited in the product oil if it has to be considered as a fuel. The degradation of PET results in organic acids, which also are corrosive in character. Furthermore, the high sublimation point of terephthalic acid, at around 400°C, leads to blockages in pipes. PET is also known to cause defluidization in fluidized bed reactors because of the formation of residual material.
There are various types of reactors in use for the pyrolysis of waste plastics. Fluidized bed reactors and rotary kilns are the most common solutions. Batch or continuous stirred tank reactors are characterized by insufficient heat transfer, which results in the formation of char. Degradative extrusion is mainly used in the dehydrochlorination of PVC. It should be noted that at the time of the first ISFR, molten metal baths were already considered obsolete technology because of the formation of toxic organometal compounds and the superior heat and mass transport properties of other reactor types [
11
].
Many contributors used the fluidized bed reactor as a technical solution for plastic pyrolysis [
12
,
13
]. Kodera et al. [
14
] proposed an extruder-like moving bed reactor, using sand as a medium for heat transfer. Vasile et al. [
15
] used a two-step process for the degradation of plastics and thermoset fractions from used computers consisting of an extruder for the degradation of the material. The attached fixed bed reactor contained a catalyst for the cracking of the wax-like pyrolysis products. Laboratory-scale experiments were also conducted in autoclaves [
16
,
17
] and quartz tube reactors [
18
–
20
]. Yasuda et al. [
21
] used a batch reactor especially equipped with a gas sampler for the collection of highly concentrated product gas.
When choosing an appropriate reactor type, two main factors have to be considered—heat and mass transfer. Due to the low heat conductivity of plastic materials, heat transport is very slow and heat distribution is inhomogeneous in the plastic melt. When small sample sizes of less than 1 g are used, fixed bed quartz tube reactors might be used. At larger sample sizes, the heat transfer has to be improved. This is usually achieved by moving the melt by extruders or rotary kiln, or in fluidized bed reactors. In fluidized and moving bed reactors, additional heat transfer media are employed. Due to the high viscosity of polymer melts, the shear forces also have an impact on the cracking behavior. Reduced diffusion increases the possibility of secondary reactions that can alter the product distribution.
The focus on the pyrolysis of polyolefins over the years can be attributed to the high content of polyolefins in the MSW fraction. The pyrolysis of polyolefins does not lead solely to momomers even when ethane and propene can be found in the product composition, but depending on the temperature, wax, aliphatic oil, aromatic oil, and gas are obtained. Low temperature pyrolysis at about 450°C results in waxes. Higher temperatures result in a higher cracking strength and the production of aliphatic oils and gases. Temperatures of more than 600°C result in the formation of aromatics from gaseous olefins by Diels–Alder reactions.
Kodera et al. [
14
] proposed a moving bed reactor for the pyrolysis of polyolefins. It consisted of a screw feeder in which a mixture of sand and PP was pyrolyzed between 500 and 700°C. The result was a mixture of hydrocarbons, and with rising temperature, the oil yield decreased and the gas yield increased. Murata et al. [
22
] found that product distribution derived from the pyrolysis of PE could be controlled with pressure because of the fission of the polymer backbone and the subsequent increase in the formation of double bonds. Williams and Williams [
23
] found when they heated HDPE, LDPE, and PP at a constant heating rate of 25 K min
−1
up to 700°C that each of these plastics released about 80 wt% of wax and oil as the main product fraction. With the addition of PS, there were higher gas yields and a more significant reduction of the liquid fraction than the predicted composition, which led to the assumption that PS has a positive effect on the polyolefin degradation. Sugano et al. [
16
] investigated the effect of hydrothermal treatment on the liquefaction of mixed plastics. They found that pretreated PS and HDPE were degraded between 300 and 400°C, yielding more oil than untreated samples. Optimal conditions were achieved at 350°C at a reaction time of 60 min. Karayildirim et al. [
24
] found that the addition of PE/PVC to heavy vacuum gas oil (HVGO) had a positive effect on the cracking of HVGO. At a relatively low temperature of 400°C without using a catalyst, HVGO and polymers were sufficiently degraded. In the first step of their setup, Hajekova and Bajus [
25
] pyrolyzed LDPE and PP at 450°C in a batch reactor. The resulting wax was then copyrolyzed with naphtha at temperatures between 740 and 820°C. No significant difference between the individual cracking of naphtha and the copyrolysis with the polyolefin wax was observed. These results show that polymers and polymer-derived waxes can be added as feedstocks to petrochemical processes.
A technical example of the development of a feedstock recycling process is the Sapporo waste plastic liquefaction plant (SPR), which has been well documented during the ISFR conferences [
26
–
29
]. The SPR (shown in Fig.
1
), which was designed as a liquefaction facility for dehydrochlorinated mixed waste plastics, started operation in 2000. During pretreatment, foreign materials (glass, metal, etc.) and water were removed. The remaining plastic materials were pelletized and dehydrochlorinated at temperatures between 300 and 330°C. The evolving gas was incinerated; HCl was absorbed in the water, which was then sold as hydrochloric acid. The dehydrochlorinated polymer melt was pyrolyzed at 400 to 450°C for 10 h and the evolved gases were distilled, resulting in light (120°C), medium (200°C), and heavy oil (280°C). The residue was pelletized and sold as solid fuel.
×
The feedstock consists of plastic waste from MSW collected all over Hokkaido. This plastic fraction consisted of 60 to 90 wt% of PE, PP, and PS, up to 6 wt% of PVC, and up to 15 wt% of PET. As can be seen, a liquefaction plant using MSW has to be able to treat feedstock with compositions that can change radically from one time to the next. Problems were encountered at first due to the presence of PET, which caused clogging and corrosion. While heating up, there was a problem with the evolution of organic acids, mainly benzoic acid and terephthalic acid, in the temperature range between 170 and 250°C. As a countermeasure, hydrated lime (Ca(OH)2) was added, and organic acids were decarboxylized. The amount of processed plastic waste at the SPR increased from 2,800 t in 2000 to its nominal capacity of 14,800 t in 2009.
Kato et al. [
30
] investigated the possibility of using waste plastics in coke ovens. It was found that plastic can be used for large-scale coke production. Besides coke, large amounts of gas and oil were obtained without affecting the coke strength.
The pyrolysis of poly(methyl methacrylate (PMMA)) is a good example of possible monomer recovery by thermal depolymerization. The reaction proceeds at temperatures above 400°C with high yields. Since methylmethacrylate (MMA) is probably the most expensive monomer used in mass-produced plastic, a recovery method that used a molten lead bath pyrolysis system had already been established. Even though lead was later replaced by tin, both metals form toxic metalorgano compounds that harm both the environment and human health. Today fluidized bed reactors are used for the recovery of MMA. Due to their good heat and mass transfer properties, this technique is much better than the molten metal baths used in the past.
Smolders and Baeyens [
31
] compared the kinetics of the PMMA depolymerization in a molten lead bath and a fluidized bed reactor. Regardless of the metal bath temperature, they observed an MMA yield of 87%. An MMA yield of more than 98% was observed between 450 and 490°C. Slightly lower MMA yields were found by Kang et al. [
32
]. Virgin PMMA resulted in MMA yields of 96.7 and 95.0% at 440 and 470°C, respectively, when a fluidized bed was used. MMA yields were slightly lower when real waste materials were depolymerized. The purity of MMA could be improved from about 95 wt% in the pyrolysis oil to 99.8 wt% by distillation [
33
].
Using the Osawa method, Kim et al. [
34
] found an activation energy of 214 kJ mol
−1
for a first order depolymerization of PMMA. Activation energies between 102 and 331 kJ mol
−1
were found by other methods [
32
]. The MMA yield depended more on the gas residence time than on the temperature, showing the importance of quickly removing produced gases from the hot reactor zone. At low temperatures, the reaction was kinetically controlled, while at higher temperatures, the reaction was limited by the heat transfer [
31
].
Catalytic processes
The thermal degradation of plastics often results in a product distribution that does not match the requirements. Alkenes from the fission of polyolefins tend to be chemical instable. They are easily oxidized in the presence of atmospheric oxygen, and polymerization leads to the alteration of the oil properties. Polyesters release organic acids, which cause corrosion and clogging. Last but not least, the chain length and isomerization degree may not be in the desired proportions. Therefore, the aims of the catalytic processes are many: the hydrogenation of alkenes, the removal of heteroatoms, such as oxygen, nitrogen, and halogens, the reduction of the degradation temperature of the polymer, and the isomerization of products. In order to achieve these aims several classes of catalysts have been developed.
The most prominent group of catalysts is fluidized cracking catalysts (FCC). They were developed for the catalytic cracking of high boiling crude oil fractions in order to increase the output of light oil and to obtain highly branched hydrocarbons. Since polyolefins are chemically very similar to naphtha, a shortcut for enhancing the degradation of polyolefins is to employ FCC catalysts.
Most of these catalysts are zeolites or modified zeolites. Lee et al. [
35
] used a spent FCC catalyst for the degradation of HDPE/PS mixtures in a stirred semi-batch reactor at 400°C. More than 85 wt% of liquid products, parafins, olefins, naphthenes, and aromatics were obtained. Only a small amount of waxes were obtained. Compared with the uncatalyzed reaction, the reaction proceeded much faster. Vasile et al. [
36
] investigated the effect of H-ZSM5 and the orthophosphoric acid modified catalyst P-ZSM5 on the degradation of a polyolefin-rich mixed plastic fraction in a two-step process. Plastic degradation took place between 450 and 460°C with the employment of an extruder. The gases produced were pipelined through a fixed bed filled with the catalyst at temperatures between 420 and 480°C. The boiling point of the product oil was lower in the presence of a catalyst than in the uncatalyzed reaction. H-ZSM5 catalyzed the formation of isomers, while the use of P-ZSM5 resulted in α-alkyl substitution and condensed aromatics. Nishino et al. [
37
,
38
] reported the use of gallium silicate and H-ZSM5 supported gallium oxide for the degradation of polyolefins at temperatures between 450 and 550°C. Using a stirred batch reactor for the pyrolysis of the polyolefins between 450 and 510°C and a fixed bed containing gallium silicate between 550 and 580°C, highly aromatic oil with a yield between 55 and 68 wt% was obtained. The use of the H-ZSM5-supported gallium oxide catalyst significantly reduced the molecular weight of the pyrolysis products and resulted in the formation of highly aromatic oil (Fig.
2
). Serrano et al. [
39
,
40
] found that H-ZSM5 was more efficient in the cracking of LDPE and LDPE–EVA (ethylene-vinyl acetate copolymer) blends than mesoporous aluminum silicate catalysts (Al-MCM-41 and Al-SBA-15). Pyrolysis at 700°C by Py-CG-MS resulted in high yields of light hydrocarbons and some aromatic compounds. The degradation of LDPE-EVA in a batch reactor between 400 and 420°C gave mainly C
1
–C
5
hydrocarbons. Aromatics were a minor product. Acetic acid was released from EVA between 350 and 400°C. Karagöz et al. [
41
] compared the catalytic efficiency of H-ZSM5, DHC8, and active carbon supported cobalt in the degradation of municipal waste plastic and HVGO at temperatures between 425 and 450°C. H-ZSM5 and active carbon supported cobalt showed comparable catalytic activities with high oil yields in the lower temperature range and an increasing gas production at higher temperatures, while DHC8 produced the highest oil yields at the highest temperature of 450°C.
×
Serrano et al. [
39
] showed that at temperatures as low as 420°C, aluminum silicate catalysts were not performing as well as zeolites. Nevertheless, these materials allow us to observe catalytic activity and can be used as supporting materials for other catalytic active metal ions. A pure silica–alumina cracking catalyst was used by Wallis et al. [
42
] for the degradation of HDPE in a reactive extruder. They obtained high yields of C
5
-hydrocarbons. A kinetic model was proposed that was capable of describing the results at a low temperature of 425°C. The model was less accurate at higher temperatures. Na et al. [
43
] synthezised silica–alumina catalyst from fly ash and used it for the pyrolysis of LDPE during thermogravimetric analysis. The performance of the fly ash-derived catalyst was similar to that of commercially available catalysts. Vasile et al. [
44
] used the commercial catalyst DHC-8 for the hydrogenation of thermosets derived from computers. Since thermosets contain high amounts of heteroatoms and also flame retardants, the hydrogenation removed toxic compounds from the product oil. It also improved the chemical stability of the oil because of the removal of olefins. The hydrogenation process resulted in an aromatic content of the oil of 60–89 wt%, making this oil suitable as a feedstock for the recovery of aromatic compounds.
Kaminsky and Zorriqueta [
45
] used Ziegler–Natta catalysts for the degradation of PP. Ziegler–Natta catalysts are frequently used for the polymerization of polyolefins. Therefore, this class of catalysts was also thought to be efficient in the degradation of polymers. It was found that the pyrolysis temperature can be reduced by 100 K in the presence of these catalysts. Also, the possibility of a pyrolysis at 300°C was suggested. Sekine and Fujimoto [
46
] investigated the effect of an activated carbon supported iron catalyst on the degradation of PP in an argon and hydrogen atmosphere between 400 and 420°C. In the presence of hydrogen, more liquid products were obtained. The amount of residue and the reaction time were reduced (Fig.
3
). Yanik et al. [
47
] investigated the effect of red mud on the pyrolysis of a mixture of MSW and HVGO at 430°C. The catalyst increased the yield of the liquid fraction, which was distributed over a wide range of carbon numbers (C
5
–C
25
). The highest yield obtained was for C
9
.
×
Botas et al. [
48
] used the olefin-rich fraction of PE pyrolysis to upgrade the oil by Wacker oxidation in order to obtain methylketones. Olefins were oxidized at 80°C by
tert
-butyl hydroperoxide. High selectivity was observed when acetonitrile was used as a solvent.
Another important problem is the degradation of organic acids derived from PET and other polyesters. Terephthalic acid was especially problematic since its high sublimation temperature of about 400°C resulted in the clogging of pipes. Therefore, finding the most appropriate catalysts for the decarboxylation of these acids is a matter of high technical relevance. Chiu and Cheng [
49
] used CuCl
2
to enhance degradation in the temperature range between 350 and 500°C. PET impregnated with CuCl
2
showed the largest weight loss. However, CuCl
2
did not change the product distribution. Organic acids remained present in the catalyzed product sample. Due to the presence of chloride, six chlorinated organic products were observed. Obuchi et al. [
50
] investigated the degradation of PP/PET mixtures using a titania/silica catalyst at 425°C. The plastic was converted into gas and oil without the formation of solid products. The amount of waxes increased with the PET content of the plastic sample. The liquefaction of PET was attributed to the transfer of hydrogen from PP via Lewis-acid sites of the titania/silica catalyst. Yoshioka et al. [
51
,
52
] decarboxylated various polyesters in the presence of Ca(OH)
2
between 600 and 800°C in a steam atmosphere. It was found that a high Ca(OH)
2
/polyester weight ratio of 10:1 at 700°C gave the best results. The decarboxylation of PET resulted in benzene rich oil with a purity of 79 wt% and a benzene yield of 85%. Similar results were obtained for poly(ethylene naphthenate) and poly(butylene terephthalate). It was assumed that the polyester was hydrolyzed during the first step, and the resulting terephthalic acid was decarboxylized when it came into contact with CaO. Grause et al. [
53
] used hard burnt lime (HBL) as the bed material in a fluidized bed reactor for the decarboxylation of PET degradation products during the pyrolysis of mixed plastics containing PE, PP, PS, and PET at 600 and 700°C. Compared with quartz sand as the bed material, more gas and less wax were obtained. In the presence of HBL, organic acids were not detected.
Grause et al. [
54
] found that the hydrolysis of polycarbonate in a steam atmosphere and in the presence of earth alkali metal oxides resulted in high yields of phenols, in which MgO was more active than CaO. At 300°C, bisphenol-A (BPA) was the main product, while at 500°C the fission of BPA resulted in high yields of phenol and isopropenylphenol.
Gasification
The aim of gasification is to produce high calorific gases by the partial oxidation of organic feedstocks and coal by steam, oxygen, or carbon dioxide. The conventional feedstocks are fossil fuels. However, because of the need to reduce carbon dioxide emissions, waste plastic materials and biomass are considered appropriate replacement materials. The product gas consists mainly of hydrogen and carbon monoxide, in which hydrogen is of special interest because of the developing hydrogen energy cycle. Activated carbon and nanotubes are also accessible by the gasification processes.
Dehalogenation
The dehalogenation of waste plastic materials is of special importance because of the damage halogenated compounds can cause to recycling facilities, petrochemical plants, and combustion engines because of the corrosive effect of HCl. Moreover, the emission of halogenated compounds is a threat to the environment and human health. Polychlorinated dibenzodioxins (PCDDs), dibenzofurans (PCDFs), and biphenyls (PCBs) are listed as persistent organic pollutants (POPs). They are barely metabolized by organisms and remain in the environment for a long time, where they accumulate in fatty tissue and cause cancer if ingested. In order to prevent the release of these hazardous chlorinated compounds, a technique for the controlled degradation of halogen containing materials is essential.
The source of halogens in waste plastics can be divided into two main groups. Chlorinated polymers, such as PVC, polyvinylidene dichloride (PVDC), and polychloroprene, are the main sources of chlorine. Polybrominated compounds, such as tetrabromobisphenol-A (TBBPA), decabromo diphenylether (DPE), and decabromo diphenylethane (DDE), are still frequently used as flame retardants, even though halogen-free flame retardants are available. Since some electric appliances are used for a long time, the brominated flame retardants being processed now will still be present in the waste stream decades from now.
Over the years, three main strategies have been developed for the removal of halogens from waste plastics—thermal dehalogenation, the mechanochemical removal of halogens by a suitable absorbent, and wet dehalogenation in an appropriate basic solvent.
Chemolysis and solvent processes
Many polymeric materials can be treated with solvent systems, which fulfill several tasks. The solvent provides better heat and mass transport properties compared with thermal degradation by itself. Solvents might also function as reactants during hydrolysis, methanolysis, and glycolysis. Moreover, at higher temperatures water exhibits excellent solvation properties, making it possible to dissolve materials that have low solubility at lower temperatures.
The general term for processes in which the solvent also acts as a reactant is solvolysis. Notably, plastics containing reactive groups can be depolymerized by solvolytic processes. Polycarbonate and PET possess ester bonds that undergo hydrolysis and transesterification in the presence of water and alcohols, respectively. Other polymers decompose in inert solvents at high temperatures by thermal degradation without the fission of reactive groups.
The advantage of solvolysis is the possibility to recover monomers at a relatively low temperature, thus allowing them to be chemically modified in some cases, depending on the solvent used. However, fillers and additives might have a negative impact on the process, making it difficult to use the solvent for a long time without regeneration.
The classical field for solvolysis is the depolymerization of PET. Methanolysis was carried out by Goto et al. [
95
]. The reaction was carried out in a batch reactor with supercritical methanol at a temperature of 300°C and a pressure of 20 MPa. The molecular weight of the PET decreased with time and reached 1,000 Da after 10 min. The highest yield of dimethylterephthalate (DMT) (80%) was obtained after 2 h. Genta et al. [
96
] proposed a kinetic model in which PET undergoes at first a random scission in the heterogeneous phase, which results in the formation of oligomers. After that, the oligomers react in the homogeneous phase with methanol from the chain ends, forming DMT. Lopez-Fonseca et al. [
97
] carried out the glycolysis of PET with an excess of ethylene glycol at 196°C using various catalysts. After 8 h, bis(2-hydroxyethyl) terephthalate with a yield of about 70% was obtained in the presence of zinc acetate and sodium carbonate. The use of sodium carbonate was suggested as an eco-friendly catalyst for the glycolysis of PET. Oku et al. [
98
] used ethylene glycol as a solvent for the alkaline hydrolysis with NaOH at temperatures between 150 and 180°C. PET was quantitatively converted into disodium terephthalate after 80 and 15 min at 150 and 180°C, respectively. The reaction was significantly enhanced by the addition of ethers, such as dioxan, tetrahydrofuran, and dimethoxyethan. Spychaj et al. [
99
] depolymerized PET in the presence of various polyamins between 200 and 210°C. The resulting polyamine can be used as a component in the production of reactive resins, i.e., epoxy resins. The use of triethanolamine for the depolymerization of PET resulted in a polyol that can be used for the production of polyurethanes (Fig.
7
). Mohd-Adnan et al. [
100
] investigated the hydrolysis of poly(
l
-lactic acid) in pressurized steam between 100 and 130°C in an autoclave. It was found that the initial homogeneous random degradation process changed at 130 ºC after about 45 min and molecular weight average of about 5,000 g mol
−1
to a heterogeneous degradation process. The activation energy increased with the weight loss.
×
Fiber-reinforced plastics (FRPs) consist mainly of glass or carbon fibers embedded in a matrix of unsaturated polyesters cross-linked by styrene. Iwaya et al. [
101
] depolymerized FRP in subcritical benzyl alcohol and diethyleneglycol monomethylether between 190 and 350°C in the presence of K
3
PO
4
as a catalyst. Benzaldehyde and benzoic acid were identified as polyester-related products, styrene derivatives as products from PS. The fibers were successfully recovered for reuse. Kamimura et al. [
102
–
105
] used supercritical methanol for the degradation of FRP between between 250 and 275°C.
N
,
N
-dimethylaminopyridine was found to be an efficient catalyst. The main products of the methanolysis were dimethylterephthalate and propylene glycol. The products obtained from the depolymerization were used for the synthesis of new FRP, which exhibited similar properties to commercial FRP. The product quality was improved by the reduction of the amount of catalyst and the purification of the methanolysis products by activated carbon. The preparation of FRP from the recovered monomers using calcium acetate and titanium tetrabutyrate as catalysts provided a product with mechanical properties comparable to FRP obtained from new monomers.
Hu et al. [
106
] used various unpolar solvents as additives for the methanolysis of polycarbonate. While the reaction of polycarbonate in methanol and in the presence of a catalytic amount of NaOH yielded only 7% BPA at 60°C after 330 min, the same reaction was completed after 70 min with the addition of toluene. The reaction also yielded 100% of the dimethylcarbonate. A similar reaction with glycerol and KOH as a catalyst in dry dioxane at 100°C resulted in high yields of 4-(hydroxymethyl)-1,3-dioxolan-2-one and BPA after 25 min [
107
]. The reaction of glucose with polycarbonate in pyridine resulted in glucose dicarbonate with a yield of 46%. Kim et al. [
108
] carried out the depolymerization of polycarbonate in ethylene glycol at 220°C for 85 min. High yields of BPA and ethylene glycol carbonate were obtained with an ethylene glycol/polycarbonate ration of 4. It was found that the glycolysis of polycarbonate proceeded much in the same way as the methanolysis of PET [
96
]. Margon et al. [
109
,
110
] investigated the equilibrium conditions of the polycarbonate decomposition products diphenylcarbonate (DPC) and BPA after the degradation of polycarbonate in phenol, as well as the extraction of these products in supercritical carbon dioxide. The Peng–Robinson equation of state (PR EOS) binary interaction parameters of the systems DPC–carbon dioxide, BPA–carbon dioxide, phenol–DPC, phenol–PBA, and DPC–BPA were used to develop a model of the tertiary system phenol–DPC–BPA–carbon dioxide. This model allowed the extraction behavior of the different compounds in this system to be predicted. Sato et al. [
111
] carried out the thermal degradation of polycarbonate in tetralin, decalin, and cyclohexanone under pressure. The thermal degradation resulted at 440°C in high yields of phenol and isopropenylphenol. Between 300 and 350°C, high yields of BPA were recovered. The addition of CaCO
3
was necessary in order to maintain the reaction.
Molero et al. [
112
,
113
] obtained mainly oligomeric polyols from the glycolysis of polyurethane at 189°C. The reaction was carried out in "split phase," involving two phases that are formed during the reaction. The produced polyols remain separated in the upper layer of the reaction mixture. Potassium octoate was found to behave as a catalyst with high activity, leading to the complete dopolymerization of polyurethane within 2 h. This process also showed a high selectivity for glycolysis and resulted in little hydrolysis. Troev et al. [
114
] used triethyl phosphate for the depolymerization of polyurethane at 190°C. The resulting oligomers contained about 8 wt% phosphor.
Tagaya et al. [
115
] used several model compounds in order to investigate the mechanism of the degradation of phenol resins in sub- and supercritical water. The addition of tetralin had a positive effect on the degradation of bis(o-hydroxyphenyl)-methane. Alkali salts acted as catalysts. Water acted not only as the reaction medium, but also as a reactant, causing the oxidation of methylene groups. Shibasaki et al. [
116
] degraded aromatic ethers in sub- and supercritical water between 250 and 430°C. Na
2
CO
3
was present as a catalyst. The main products obtained were phenolic compounds from aromatic ethers and benzyl aldehyde and benzyl alcohol from dibenzylether. The water content and temperature had a significant influence on the reaction.
Moriya and Enomoto [
117
] investigated the degradation of PE in supercritical water. The reaction proceeded more slowly in the initial stage than during thermal degradation. However, less char was produced during the hydrothermal treatment. The products obtained were mainly alcohols and ketones. Aguado et al. [
118
] degraded HDPE in decalin at 400°C and 2 MPa in nitrogen atmosphere. Due to an improved heat and mass transfer, more gas and oil and less solid were obtained compared with the reaction without decalin. Decalin enhanced the production of α-olefins and
n
-parafins.
Chen et al. [
119
] conducted the depolymerization of nylon-6 in subcritical water between 280 and 330°C. The use of phosphotungsten heteropoly acid as a catalyst resulted in high yields of ε-caprolactam with 6-aminocaproic acid and oligomers as minor products. The highest yield of 78% of ε-caprolactam was achieved at 300°C after a reaction time of 85 min.
Du et al. [
120
] used a system of PEG and NaOH for the denitrogenation of acrylonitrile–butadiene–styrene (ABS), dissolved in tetrahydrofurane, dioxane, or toluene. After 2 h of reaction time at 160°C, 93% of the initial nitrogen was removed from the ABS material when tetrahydrofuran was used as a solvent.
Wahyudiono et al. [
121
] decomposed lignin in supercritical water between 380 and 400°C. Catechol, phenol, and
o
-cresol were the main products of the guaiacol degradation with catechol reaching more than 40 wt%. Long reaction times caused the production of char. Increasing water density accelerated the product formation. Kamo et al. [
122
] obtained tar from the reaction of wood from Japanese cedar with benzyl alcohol and NaOH or cresol and sulfuric acid at temperatures between 250 and 350°C. Various plastic materials were solubilized in the resulting tar. Epoxy resin from printed circuit boards was almost completely solubilized at temperatures between 250 and 300°C. Tanaka et al. [
123
] extracted dietary fibers from the juice processing residue of
Citrus junos
. This material, high in pectin, hemicelluloses, and cellulose, was treated with subcritical water between 160 and 320°C. About 78% of the pectin and 80% of the cellulose were extracted at 160 and 200°C, respectively.
Other recycling technologies
The majority of contributions for the ISFR were dedicated to the chemical recycling of plastics. Over the course of time, the ISFR gradually widened its field of interest to areas not directly connected with the classical process of feedstock recycling resulting in petrochemical oils and monomers for the chemical industry. Mechanical recycling, including material separation, blending, etc., was given more space.
The most obvious difference from chemical recycling is that mechanical recycling attempts to conserve the chemical structure of the polymer. The aim is to remove the additives and fillers without destroying the polymer backbone. In order to obtain a useful recyclate, it is necessary to provide a sorted polymer fraction. For this reason, various separation techniques are applied. Since the properties of recyclates differ in general from those of the initial polymer, they are often blended with virgin materials in order to meet certain specifications.
Outlook
Open Access
This article is distributed under the terms of the Creative Commons Attribution Noncommercial License which permits any noncommercial use, distribution, and reproduction in any medium, provided the original author(s) and source are credited.
Open Access
This is an open access article distributed under the terms of the Creative Commons Attribution Noncommercial License (
https://​creativecommons.​org/​licenses/​by-nc/​2.​0
), which permits any noncommercial use, distribution, and reproduction in any medium, provided the original author(s) and source are credited.