01.02.2020 | Ausgabe 2/2020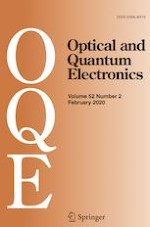 Femtosecond laser ablation of a thin silver film in air and water
Zeitschrift:
Autoren:

N. A. Smirnov, S. I. Kudryashov, P. A. Danilov, A. A. Nastulyavichus, A. A. Rudenko, A. A. Ionin, A. A. Kuchmizhak, O. B. Vitrik
Wichtige Hinweise
This article is part of the Topical Collection on Advanced Photonics Meets Machine Learning.
Guest edited by Goran Gligorić, Jelena Radovanovic and Aleksandra Maluckov.
Publisher's Note
Springer Nature remains neutral with regard to jurisdictional claims in published maps and institutional affiliations.
Abstract
In this work, single-shot craters were produced by femtosecond laser ablation using an objective with a numerical aperture
NA
 = 0.25 and laser pulses with the 0.3-ps width and the central wavelength of 515 nm. Ablation was performed in air and distilled water. A sample, 65-nm thick silver film, was prepared by magnetron sputtering onto silica glass and crystalline silicon substrates. Craters were visualized by a scanning electron microscope. Some differences were found in the morphology of craters, depending on the substrate and on the ambient medium. A drastic increase in the crater size was observed during the ablation in water, which is explained by filamentation that occurs when the peak pulse power exceeds 1.3 MW.