2015 | OriginalPaper | Buchkapitel
7. Field Ion and Field Desorption Microscopy: Principles and Applications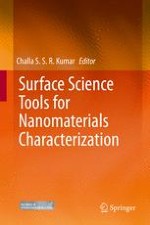 Erstes Kapitel lesen
Autor: Yuri Suchorski
Verlag: Springer Berlin Heidelberg
Abstract
The chapter describes the basic principles of the field ion (FIM) and field desorption (FDM) microscopies and of the probe-hole spectroscopic analysis of imaging species, as well as their applications for the studying of dynamic surface processes on the atomic scale.
Although the field ion microscopy is the oldest technique resolving individual atoms, it remains preeminent in their ability to prepare the atomically perfect surfaces and to persuade the dynamic surface processes such as catalytic reactions on the nanoscale using the parallel imaging principle. This has led, despite of the great success of the scanning electron microscopy and scanning tunneling microscopy (STM), to the revival of the FIM based techniques and to developing of new versions, such as Lithium Field Desorption Microscopy (Li-FDM) in last decades. The present chapter is focused on the recent surface chemistry applications, especially on the in situ imaging of catalytic reactions. The newest results in studying the local reaction kinetics in the nanosized reaction systems by FIM are presented and the fluctuation-induced deviations from the behaviour predicted by macroscopic rate laws revealed by FIM are discussed.
Especially emphasized is the possibility to analyze via probe-hole the species emitted from the individual surface sites. Such an analysis provides the basis for the Field Ion Appearance Energy Spectroscopy (FIAES). This technique and its practical applications, particularly in catalysis, are explicitly analyzed in the chapter.