10.10.2019 | Ausgabe 6/2019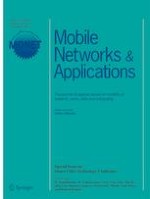 RETRACTED ARTICLE: Filter Bank Multicarrier Based Generalized Discrete Fourier Transform for Peak to Average Power Ratio Reduction
Zeitschrift:
Autoren:

B. Ramesh, J. Senthilkumar, Y. Suresh, V. Mohanraj
Wichtige Hinweise
The authors have retracted this article as it overlaps significantly with a previously published article by Aboul-Dahab et al. (2019). All authors agree with this retraction.
Publisher's Note
Springer Nature remains neutral with regard to jurisdictional claims in published maps and institutional affiliations.
Abstract
The Filter Bank Multicarrier (FBMC), one of the multi-carrier modulation technique are subjected to extreme intensities of Peak to Average Power Ratio (PAPR). Moreover, the FBMC is a firm user, like the waveform-centred framework in the unconventional wireless communication frameworks, such as the 5G telecommunication system. This system framework acts as an alternative to the Orthogonal Frequencies Divisions Multiplexing (OFDM), including the Discrete Fourier Transforms (DFT). Signal Spreading is applicable in the FBMC purposed for PAPR reductions, which exemplifies a significant computational increase in its complexities that does not necessitate an overhead of signal placed at the receiver end. In this proposed work recommends the application of the general DFT, which is considered as a substitute to the DFT-spreading purposed for the PAPR reductions. To further we have derived the conditions whereby the Generalized Discrete Fourier Transform (GDFT) can significantly apply the single carriers influenced of the DFT-spreading, which targets the reductions in the PAPR. Moreover, this paper proposes a developed algorithm centred on the GDFT that considers more PAPR reductions eliminating any further computational complexities. Therefore, the recommended algorithm has been formulated to utilized Side Information (SI) represents a single bit of every data segment. This developed algorithm is also applicable in more enhanced DFT-spreading frameworks aimed at comparing data. Based on the collected simulation findings, it is evident that varied number of sub-carriers GDFT-spreading, which considers the availability or the presence of the developed algorithm, indicates the recommendable framework signifying that the enhanced algorithms received in most instances is an additional PAPR amount reductions based on other DFT-spreading frameworks. These frameworks, including the developed GDFT indicate effective power spectral densities (PSD) compared to varied DFT-spreading frameworks.