2018 | OriginalPaper | Buchkapitel
13. Final Remarks and Outlook for Teaming-Based Resilience in Supply Networks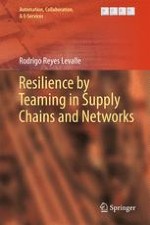 Erstes Kapitel lesen
Autor: Rodrigo Reyes Levalle
Abstract
Resilience is becoming a central concern in modern complex systems. As such, supply networks need design and operation mechanisms capable of enabling multi-level resilient behavior. In order to guide researchers and practitioners in these tasks, Chaps.
2
–
5
introduce the basic elements required to understand resilience requirements and model SN behavior. These foundational concepts should provide the base for future research efforts in resilient systems. Inspired in the principles of Collaborative Control Theory, Chaps.
6
–
9
present a teaming-driven approach to design and operate supply networks: Resilience by Teaming. A suite of protocols and design guidelines are presented in detail to provide practitioners with a generalized approach to design structures and control flow in physical, digital, and service SNs. The protocols and design considerations discussed in RBT are analyzed in real-world case studies in Chaps.
10
–
12
. In this final chapter, the major contributions of the book are revisited. Future research lines are discussed not only in relation to the extension of Resilience by Teaming, but also from a general perspective for complex resilient systems.