2019 | OriginalPaper | Buchkapitel
Financial Crisis and Brain Drain: An Investigation of the Emigration Intentions of Greek Scientists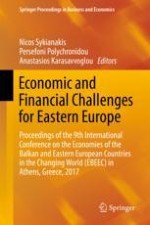 Autoren: George Theodossiou, Ioannis Rigas, Eleni Thanou, Apostolos Goulas
Abstract
Purpose
This study intends to identify and assess the emigration intentions of Greek scientists due to the continuing economic crisis in Greece from 2009 onward.
Methodology/Approach
The subject of this paper is investigated with the help of factor analysis applied to a data set collected from a nationwide sample of 342 young people aged 18–45 years. The questionnaire consists of two categories (scales) of questions which refer to (a) the reasons that compel young people to emigrate (A scale) and (b) the reasons for not considering emigration (B scale). The factor analysis identified five factors in the scale A and three in the scale B, which explain the 78.53% and 78.64% of the total variance in the respective data sets. The same results were reached both with the method of hierarchical analysis in clusters for grouping the subjects of the two scales and with the method of residuals for each subject.
Results
The analysis and processing of the data showed that young people who want to emigrate are well aware of the reasons which have led them to this important decision, while those who do not consider to emigrate are not so clear about the reasons that lead them to the rejection of emigration as an option for a better future.
Practical Implications
The research findings indicate that young unemployed scientists believe that core EU countries offer an excellent environment for professional advancement plus other professional and social benefits compared to those available or not available in Greece during the crisis.
Originality/value
This is an original research which contributes to the international literature on the investigation of the emigration intentions and motives of young scientists.