04.03.2017 | Original Paper | Ausgabe 5/2017 Open Access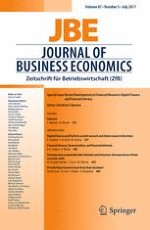 Financial literacy, financial advice, and financial behavior
Zeitschrift:
Autoren:

Oscar A. Stolper, Andreas Walter
1

Introduction

In recent years, consumers across the globe have taken on greater responsibility with regards to their personal financial well-being. Sweeping changes in the pension landscape have marked the principal catalyst for this increased autonomy of consumers by passing financial decisions including saving, investing, and decumulating wealth to employees and retirees. Where in the past, employees in many countries relied on social security and employer-sponsored defined benefit pension plans, with the increasing shift to defined-contribution pension plans, households are now being given greater control and responsibility over the long-term investments funding their retirement. At the same time, consumers have to find their bearings in a market characterized by a growing complexity which requires both a firm understanding of increasingly sophisticated products and the ability to judge the quality of guidance received about these products.

In Germany, this trend towards consumer autonomy has been further accelerated by two developments. First, the 2001 reform of the public pension system transformed a statutory pension scheme established at the foundation of the Federal Republic of Germany which had provided generations of retirees with sufficient funds into a system featuring multiple pillars of old-age provision. Specifically, this shift involved a substantial reduction of state-granted benefits and ever since requires employees to participate in state-subsidized pension plans (most prominently the so-called

Riester

plan) as well as occupational and private pension plans in order to fill the gap in retirement income. The second aspect relates to how German households have traditionally accumulated wealth: large parts of the population predominantly rely on savings deposits and thus forego excess returns of equity investments. While this extreme risk aversion has always been a challenge to profitable asset management, the ongoing period of interest rates next to zero renders established savings patterns entirely ineffective and urges for new investment strategies to provide for retirement. Taken together, these developments turn millions of German households into financial market participants, even though the vast majority have below-average experience as compared to individual investors in other economies like, e.g., the U.S. with a long-term equity culture.

Against this background, a natural question to ask is whether today's households are well-equipped to successfully manage their personal financial affairs. In this review, we address this question and thereby focus on consumers' financial literacy, i.e. their knowledge of key financial concepts as well as their ability to apply this knowledge to make informed financial decisions.

1

To preview the evidence provided by some of the studies we survey in greater detail in subsequent sections of the paper, research not only documents generally low levels of financial literacy but also finds large heterogeneity in financial literacy across the population. For example, Bucher-Koenen and Lusardi (

2011

) assess financial literacy in Germany and provide evidence that knowledge of basic financial concepts is particularly low among women, the less educated, and those living in East Germany, hence suggesting that economically vulnerable groups are placed at further disadvantage by their lack of financial knowledge.

Moreover, low levels of financial literacy have been linked to suboptimal financial behavior likely to have long-term consequences. Hilgert et al. (

2003

) find that low literate individuals are generally less likely to engage in a wide range of recommended financial practices. More specifically, Bucher-Koenen (

2011

) finds that Riester participation is disproportionately low among those German households with the lowest levels of financial literacy, although this group is eligible for the relatively highest government subsidies (see, e.g., Coppola and Gasche

2011

). In the U.S., Choi et al. (

2011

) investigate contributions to 401(k) plans by employees who are eligible for an employer match and find that a large fraction of these employees either do not participate at all or contribute less than the amount required to be granted the full employer match, thus foregoing matching contributions which cumulate to substantial losses over time. These and other findings in the literature have sparked public discussion pointing to a need for financial literacy in a world in which individuals now shoulder greater personal financial responsibility. Accordingly, the assessment of consumers' financial competence as well as the effect of financial education initiatives on economic outcomes has attracted considerable attention in recent years and the academic literature on financial literacy is rapidly evolving.

We conducted an ad-hoc query using the

Web of Science

2

and searched for the terms 'financial literacy' or 'financial knowledge' in the publication titles. Figure

1

reports the rapid increase in publications on the topic as of March 2016. Specifically, the first 3-year period from 2002 to 2004 featured an average of one publication per year whereas roughly 26 papers per year were published between 2013 and 2015. As can be also inferred from Fig.

1

, the increasing relevance of financial literacy becomes even more obvious when using citations generated by financial literacy publications as a benchmark. From 2004 to 2006, the Web of Science database counts no more than two citations per year while in the most recent 3-year period, i.e. 2013–2015, this number jumps to an annual average of 346 citations.
×
Table
1
lists the 20 most frequently cited publications we obtained from our
Web of Science
query. Interestingly, these top-cited papers are published in journals covering a broad array of disciplines in economics and business administration, including accounting, economics, economic psychology, finance, and marketing. The most important publication outlet is the
Journal of Consumer Affairs
, i.e. a marketing-related journal, which accounts for a total of eight publications in the top 20. Economics journals come second and the remaining disciplines close behind.
Table 1
Most frequently cited papers
Rank

Authors

Year of publica-tion

Journal

Title

Total citations

Average citations p.a.

1

Lusardi A, Mitchell OS

2007

J. Monetary. Econ.

Baby boomer retirement security: the roles of planning, financial literacy, and housing wealth

235

23.5

2

van Rooij MCJ, Lusardi A, Alessie RJM

2011

J. Financ. Econ.

Financial literacy and stock market participation

129

21.5

3

Lusardi A, Mitchell OS

2008

Am. Econ. Rev.

Planning and financial literacy: How do women fare?

102

11.3

4

Lusardi A, Mitchell OS, Curto V

2010

J. Consum. Aff.

Financial literacy among the young

82

11.7

5

Lusardi A, Mitchell OS

2011

J. Pension Econ. Financ.

Financial literacy around the world: an overview

57

9.5

6

Huston SJ

2010

J. Consum. Aff.

Measuring financial literacy

57

8.1

7

Lusardi A, Mitchell OS

2014

J. Econ. Lit.

The economic importance of financial literacy: theory and evidence

37

12.3

8

2008

J. Consum. Aff.

The role of self-regulation, future orientation, and financial knowledge in long-term financial decisions

37

4.1

9

McDaniel L, Martin RD, Maines LA

2002

Account. Rev.

Evaluating financial reporting quality: the effects of financial expertise versus financial literacy

37

2.5

10

van Rooij MCJ, Lusardi A, Alessie RJM

2011

J. Econ. Psychol.

Financial literacy and retirement planning in the Netherlands

33

5.5

11

Lusardi A, Mitchell OS

2011

J. Pension Econ. Financ.

Financial literacy and retirement planning in the United States

31

5.2

12

2010

J. Consum. Aff.

Financial literacy explicated: the case for a clearer definition in an increasingly complex economy

29

4.1

13

2008

J. Consum. Aff.

Financial literacy, public policy, and consumers' self-protection—more questions, fewer answers

29

3.2

14

van Rooij MCJ, Lusardi A, Alessie RJM

2012

Econ. J.

Financial literacy, retirement planning and household wealth

26

5.2

15

Fernandes D, Lynch Jr. JG, Netemeyer RG

2014

Manage. Sci.

Financial literacy, financial education, and downstream financial behaviors

20

6.7

16

Gathergood J

2012

J. Econ. Psychol.

Self-control, financial literacy and consumer over-indebtedness

20

4.0

17

Bucher-Koenen T, Lusardi A

2011

J. Pension Econ. Financ.

Financial literacy and retirement planning in Germany

19

3.2

18

Servon LJ, Kaestner R

2008

J. Consum. Aff.

Consumer financial literacy and the impact of online banking on the financial behavior of lower-income bank customers

19

2.1

19

Bruine de Bruin et al.

2010

2010

J. Consum. Aff.

Expectations of inflation: the role of demographic variables, expectation formation, and financial literacy

18

2.6

20

Walstad WB, Rebeck K, MacDonald RA

2010

J. Consum. Aff.

The effects of financial education on the financial knowledge of high school students

16

2.3
In this survey, we offer an assessment of the voluminous body of literature on the measurement and the determinants of financial literacy. In addition, we assess the literature dealing with the effectiveness of financial education when it comes to improving financial literacy and financial behavior. At this, we complement the excellent reviews provided by Hastings et al. (
2013
) and Lusardi and Mitchell (
2014
) along at least three different lines. First, while these surveys focus on U.S.-based evidence, we adopt a different perspective and instead put emphasis on what is known about financial literacy in Germany, since German consumers face financial decisions substantially different from those of U.S. their counterparts. Wherever possible, we supplement existing findings with recent descriptive evidence of German households' financial literacy levels based on the novel
Panel on Household Finances
(PHF) dataset, a large-scale survey administered by the Deutsche Bundesbank and representative of the financial situation of households in Germany.
3
Second, we review the role of individuals' financial literacy for the use of professional financial advice. Recently, a lot of contributions have addressed the question whether financial advice may substitute for financial capabilities or if the two approaches to improve consumer financial decision making instead should rather be considered complements. One goal of this paper is to present a comprehensive survey of the literature contributions discussing this question which seeks to inform policymakers about the effectiveness of interventions regulating the supply side of financial products and services on the one hand versus enabling the demand side by means of financial education initiatives on the other hand.
Third, we aim at providing the reader with some of the tools necessary to contribute to the research on financial literacy. To this end, we describe different methodological approaches to proxy for individuals' financial capabilities absent a direct measure of financial literacy. Moreover, we highlight potential endogeneity concerns when it comes to establishing cause-and-effect relationships as well as methodological approaches to address endogeneity in the context of financial literacy research. Finally, we supplement the literature review with a number of useful overviews over the host of different sources providing the raw data necessary to address relevant research questions.
While this review focuses on the empirics of financial literacy research, the body of literature on individuals' financial knowledge and abilities also comprises important theoretical work (e.g. Delavande et al.
2008
; Jappelli and Padula
2013
,
2015
; Lusardi et al.
2013
). Most of the theoretical contributions develop intertemporal consumption frameworks to model individuals' decision to invest in financial literacy as well as its effect on households' general savings and investment decisions, i.e. endogenizing their decision to invest in financial knowledge.
4
The remainder of the paper is structured as follows. Section
2
discusses conceptualizations of financial literacy and describes and assesses different approaches to measure it. In Sect.
3
, we review the evidence on financial literacy levels for various different economies around the world, while Sect.
4
surveys the literature on the determinants of financial literacy. Section
5
discusses the voluminous body of literature contributions investigating the link between financial literacy and financial behavior and addresses endogeneity concerns arising when capturing this connection. Section
6
reviews alternative approaches proposed to improve consumers' financial behavior as well as an evaluation of their effectiveness. Section
7
concludes, draws policy implications, and suggests avenues for further research.
2

Measuring financial literacy
3

Financial literacy around the world

Few studies lend themselves for an inclusion to a cross-country assessment of general financial literacy levels of consumers across different countries. Straightforwardly, a major data limitation is that we have to compare identical literacy measures that have been applied in studies carried out in many countries, ultimately leaving us with only few cross-country assessments.
3.1

Financial literacy of adult consumers
3.2

Financial literacy of adolescents

Unlike most other datasets discussed in this review, a comprehensive cross-country survey conducted on behalf of the OECD has recently assessed the financial capabilities of adolescents. Hence, this large-scale survey among 15-year old students administered by the OECD in 2012 extends the international evidence on financial literacy levels by studying the young, whose financial decisions are arguably most likely to have long-term consequences.

Figure

2

plots mean proficiency levels of more than 29,000 students, who are representative of as much as nine million 15-year olds in the 18 participating countries,

22

and reveals considerable variation in cross-country financial literacy levels among the young, as well.
×
As plotted in Fig.
2
, 16 out of the 18 countries under review feature financial literacy levels fairly close to the OECD normalized average of 500 points. In this group, the country-specific mean scores range between 466 (Italy) and 541 (Belgium).
23
Thus, for the vast majority of countries under review, average student proficiency levels are either in Level 2 (400 to less than 475 points) or in Level 3 (475 to less than 550 points). Importantly, the OECD defines Level 2 as an international benchmark for the lower bound of financial capabilities, i.e. marking the threshold between financial literate and financially illiterate individuals.
24
There are two outliers in this rather homogeneous picture. Students from Shanghai-China perform best with a mean score of 603, Columbian students perform poorest with a mean score of 379. Consequently, the average student from Columbia features Level 1-proficiency (326 to less than 400 points) and, according to the OECD classification, fails to meet the requirements necessary for basic financially literacy. Regarding the surveyed students' individual proficiency, Lusardi (
2015
) documents that about 15% of students perform at or below Level 1-proficiency.
25
3.3

Overview of international data on financial literacy

Table

3

provides the reader with an up-to-date international overview of available surveys that have elicited financial literacy levels among their respective respondents. Panel A lists the available surveys for Germany, Panel B contains European household surveys and Panel C (Panel D) refers to surveys conducted in the U.S. (in other countries).

Table 3

Household surveys including questions related to financial literacy, by countries
Name of survey

Year of data

Country

Focus group

Sample size

Initiator

Applied measure

Big 3 questions used?

Publicly available?

German Panel on Household Finances (PHF)

Since 2010

Germany

Adults

4.500

Deutsche Bundesbank

Big Three

Yes

Yes

Sparen und Altersvorsorge in Deutschland (SAVE)

2001–2013

Germany

Adults

1.430

Munich Center for the Economics of Aging (MEA)

Big Three extended

Yes

Yes

Sozio-oekonomisches Panel (SOEP)

Anually since 1984

Germany

Adults

30.000

Deutsches Institut für Wirtschaftsfor-schung e.V. (DIW Berlin)

Interest and risk

No, only question on interest

Yes

Patrimoines et Préférences face au Temps et au Risque (PATER)

Since 1998

France

Adults

5.000

French National Statistics Institute (INSEE)

Big Three extended

Yes

No

YouGov Debt track survey

Quarterly since 2000

U.K.

Adults

3.000

YouGov

Interest, compound interest and amortization

No

No

English Longitudinal Survey of Ageing (ELSA)

Since 2002

England

Adults aged > 50

9.666

Consortium of U.K. government departments

Basic cognitive skills

No

Yes

DNB Household Survey (DHS)

Since 1993

Netherlands

Adults

2.000

De Nederlandsche Bank

Big Three extended

Yes

Yes

Survey on Household Income and Wealth (SHIW)

Since 1965

Italy

Adults

20.000

Bank of Italy

Interest, inflation and others

No, only questions on interest and inflation

Yes

Unicredit Customers' Survey (UCS)

2007

Italy

Customers of UniCredit with at least €10,000 in the bank

1.686

UniCredit Group

Inflation, interest, risk diversification, risk

No

No

2010 consumer survey

2010

Sweden

Adults

1.300

Swedish Financial Supervisory Authority

Inflation, risk diversification and others

No, only questions on inflation and risk diversification

No

SHARE—Survey of Health, Ageing and Retirement in Europe

Since 2004

20 European countries (and Israel)

Adults age > 50

123.000

European Commission

Numeracy and interest

No

Yes

Jump$tart Coalition of Personal Finance Literacy Nationwide Surveys

Since 1997

USA

High school students (seniors) and college students

8.000

Merrill Lynch Foundation

Financial knowledge questions

No

No

Well Being 64—Financial Literacy

2009

USA

Adults

1.707

RAND American Life Panel

Big Three extended

Yes

Yes

National Financial Capability Study (NFCS)

2009–2012

USA

Adults

25.000

FINRA Investor Education Foundation

Big Three extended

Yes

Yes

National Longitudinal Survey of Youth 1979 (NLSY)

Since 1979

USA

Adults, born between 1957 and 1964 (2012)

7.300

U.S. Bureau of Labor Statistics

Big Three extended

Yes

Yes

Health and Retirement Study (HRS)

Since 1998 biennially

USA

Adults aged > 50

19.478

National Institute on Aging

Big Three extended

Yes

Yes

Rush Memory and Aging Project (MAP) (Financial Literacy)

2010

USA

Adults without dementia

730

Rush University of Chicago

Big Three extended

Yes (diversification question modified)

No

Consumer Finance Monthly (CFM)

Since 2009

USA

Adults

5.048

Consumer Finance Research Group and The Ohio State University

Financial knowledge questions

No

Yes

Standard & Poor's Ratings Services Global Financial Literacy Survey

2014

Global

Adults

150.000

McGraw Hill Financial

Big Three extended

Yes, but modified

Yes

Financial Literacy Survey conducted by Taiwan's Financial Supervisory Commission (FSC)

2011

Taiwan

Adults

2.523

Department of Statistics of the Ministry of the Interior (Taiwan)

Financial knowledge questions

No

No

ANZ Survey of Adult Financial Literacy in Australia

Since 2002

Australia

Adults

3.400

Australia and New Zealand Banking Group

Financial knowledge, numeracy, interest and time value of money

No

No

Canadian Financial Capablility Survey (CFCS)

Since 2008

Canada

Adults

12.620

Financial Consumer Agency of Canada

Financial knowledge and interest

No

No

Survey on Living Preferences and Satisfaction (SLPS)

Anually since 2003

Japan

Adults

5.386

Osaka University

Big Three

Yes

No
Besides reporting details on initiators and respondents of the different surveys, Table
3
also provides information about the test-based measurement approach applied (e.g. financial knowledge or cognition). Moreover, the table provides information on whether the
Big Three
questions were implemented
26
as well as if the survey has been completed in the past or features ongoing waves. Finally, we indicate whether the data obtained in the survey is publicly available for researchers.
4

Determinants of financial literacy

After having surveyed the evidence on how financial literacy is distributed across countries, we now turn to the question if there are common determinants related to peoples' individual financial literacy levels.
4.1

Demographic characteristics
4.2

Additional patterns

Recently, some contributions have examined the impact of peoples' financial socialization on their financial literacy levels. For example, Grohmann et al. (

2015

) identify three potential channels of financial socialization: family, school and work and find that two of the three channels, i.e. family and school, indeed have a positive impact on the financial literacy of the adult subjects in their study. Regarding peoples' family background, Lusardi et al. (

2010

) analyze financial literacy levels of young adults and relate them to the financial literacy levels observed for other members of the households in which they were raised. The authors document a positive correlation between financial literacy levels documented for the young adults and both financial literacy scores and educational attainment of their parents.

30

Moreover, financial behaviors of the respondents' parents and their educational background are shown to independently influence financial literacy levels measured for their children. Finally, in a related study on the role of financial socialization, Lachance (

2014

) finds that even the educational attainment of respondents' neighbors on average impacts their financial literacy levels.
5

The role of financial literacy for financial behavior
5.1

Endogeneity concerns
5.1.1

Sources of endogeneity

What causes endogeneity and how does it impact inference? Omitted variables are one of the three sources of endogeneity and refer to those explanatory variables that should be included in the model but in fact are not. If the positive correlation between financial literacy and good financial decisions observed in a given setting likely owes to some underlying third factor which contributes to both higher levels of financial literacy and better financial outcomes, endogeneity enters the model by way of one or more omitted variables. In statistical terms, the inability to explicitly include these determinants in the regression equation means that instead of appearing among the explanatory variables, the impact of these omitted variables appears in the error term, thus distorting estimators and making reliable inference virtually impossible.
5.1.2

Towards a causal interpretation of the effect of financial literacy on financial behavior

The standard approach to address endogeneity is finding an instrumental variable (IV) for the endogenous regressor and use this IV in a two-stage least squares (2SLS) regression in order to produce consistent parameter estimates. Generally, a clear understanding of the economics governing the question of interest is key to identifying a valid instrument. A good example of instrument choice is given in van Rooij et al. (

2011b

) who document a positive relationship between stock market participation and financial literacy which is not only consistent with financially savvy investors having knowledge about expected excess returns of stocks, but also with shareholders learning from their investment experience.

32

To establish causality, the authors resort to IV estimation and instrument financial literacy with information regarding the personal finances of their siblings and parents, respectively. Specifically, they asked respondents whether the financial situation of their oldest sibling is either

worse

or

the same or better

than their own financial situation and also collected information on how they assess the level of financial knowledge of their parents. Why do these items make particularly good IVs? For one, these instruments for financial literacy are exogenous with respect to respondents' stock market participation since, arguably, the financial experience of others is beyond their control. At the same time, however, respondents likely learn from their families, thereby increasing their own literacy.

33

Hence, the instruments affect the outcome (the respondent's propensity to participate in the stock market) only via their effect on the endogenous variable (the respondent's financial literacy level), i.e. satisfy both the relevance and the exclusion condition required to hold for a valid IV.

Observational studies using carefully chosen IVs are sometimes regarded as being equivalent to quasi experiments regarding their power to support causal claims (Angrist and Krueger

2001

). However, a few general comments are in order when discussing the IV regression approach. First, since the error term is unobservable, one cannot empirically test the exclusion condition, i.e. whether or not an instrument is correlated with the regression error term. Consequently, there is no way to statistically ensure that an endogeneity problem has been solved. Moreover, Roberts and Whited (

2013

) stress that truly exogenous instruments are difficult to find and, in particular, that it should be rigorous economic arguments rather than formal falsification tests that eventually decide over the instrument's validity.
5.1.3

Is there an endogeneity bias in the effect of financial literacy on financial behavior?

Evidence on the question of whether or not there is an endogeneity bias caused by omitted variables, reverse causality, or measurement error in studies examining links between measured financial literacy and financial behavior is rather inconsistent. In their review of 11 studies estimating both OLS and IV specifications from their data, Lusardi and Mitchell (

2014

) find that the IV financial literacy estimates always prove to be larger than the ordinary least squares estimates and conclude that, if anything, non-instrumented estimates of financial literacy underestimate the true effect. This evidence is a strong case for substantial measurement error biasing the OLS estimates, since the magnitude of the coefficients should be

upwardly

biased if omitted variables and reverse causality were the only sources of endogeneity. By contrast, Fernandes et al. (

2014

), who conduct a meta-analysis of the relationship between financial literacy and financial outcomes and—unlike Lusardi and Mitchell (

2014

)—consider standardized coefficients, find significantly smaller effects for 24 studies using both instrumental variables and OLS estimation lacking those controls. They conjecture that non-instrumented regression models in fact overestimate the effect of financial literacy, which reflects endogeneity bias predominantly owing to omitted variables and reverse causality in the OLS designs. Additionally, they test the proposition that designs using instruments for financial literacy and 2SLS are similar to quasi experiments with regards to their ability to support causal inferences—in which case effect sizes should be comparable to what one finds in intervention studies that manipulate financial literacy by means of providing financial education to the treatment group. However, rejecting this claim, they find that intervention studies on average show much smaller effects than econometric studies with instrumental variables and question the validity of instruments used for financial literacy in the studies they review in their meta-analysis. Based on these findings, the authors conclude that past work supporting a causal role for financial literacy might need revisiting on methodological grounds.

Taken together, both the relevance of endogeneity concerns and the tools to remedy potential endogeneity bias are discussed rather controversially in the literature. Outside of controlled experiments, there is no way to ensure that endogeneity problems are eliminated or sufficiently mitigated to allow for reliable causal inferences. Thus, addressing endogeneity concerns by way of IVs should always rest on the strength of the researcher's arguments supporting the identification strategy.

In what follows, we survey the literature on the impact of financial literacy on financial decision making in various different domains. While we will not explicitly discuss potential endogeneity concerns in the contributions under review, the reader should keep in mind that these issues might still apply.
5.2

Savings and investment decisions
5.3

Financing decisions
5.3.1

High-cost borrowing

Compared to the large body of literature linking financial literacy to saving and investment decisions, evidence on the role of consumers' financial capabilities for their financing behavior is scarce. Not surprisingly, the literature typically documents a negative correlation between financial literacy and mistakes in financing decisions: the less financially literate individuals are, the more likely they are to make poor financing decisions. Most prominently, there is solid evidence that low levels of financial literacy are associated with high-cost borrowing and suboptimal mortgage choices (e.g., Moore

2003

; Lusardi and Tufano

2015

; Lusardi and de Bassa Scheresberg

2013

; Disney and Gathergood

2013

). Lusardi and Tufano (

2015

) show for the U.S. that individuals exhibiting low levels of financial literacy use high-cost borrowing and pay higher transaction costs and fees. Lusardi and de Bassa Scheresberg (

2013

) also examine high-cost borrowing in the U.S., including payday loans, pawn shops and auto title insurance. They also confirm that low literate individuals are substantially exposed to high-cost methods of borrowing. Disney and Gathergood (

2013

) confirm this finding for the U.K. by showing that low levels of financial literacy are associated with an excessive use of high-cost credit like payday loans or mail order catalogue debt.
5.3.2

Costly credit card practices and excessive debt accumulation

Other recent studies document that individuals with low levels of financial literacy are significantly less likely to use their credit cards efficiently (e.g., Lusardi and Tufano

2015

; Mottola

2013

; Allgood and Walstad

2013

). Analyzing U.S. adults, Allgood and Walstad (

2013

) find a robust negative relation between financial literacy and costly credit card practices. The authors also show that the influence of self-assessed financial literacy on costly credit card practices is greater than that of test-based financial literacy, providing evidence that the two concepts are distinct from each other.

35

Analyzing the same dataset, Mottola (

2013

) also confirms that the financially literate respondents are less often found to exhibit costly credit card behaviors such as being charged a late fee for late payment or not paying down credit card debt in full. In addition, some studies show that a lack of financial literacy is associated with excessive debt accumulation (e.g., Stango and Zinman

2009

; Lusardi and Tufano

2015

). Analyzing U.S. consumers, Lusardi and Tufano (

2015

) show that the least sophisticated with respect to debt literacy are exposed to excessive debt loads and the authors also find that this group is not able to judge their debt positions. Finally, Gerardi et al. (

2013

) find that numerical abilities—a skill set which is positively associated with financial sophistication—are strongly negatively correlated with mortgage defaults.
6

Towards improved financial decision making
6.2

Financial advice as a substitute for financial literacy?
7

Conclusion
7.1

Summary

We review the literature on the rapidly evolving field of financial literacy. Interestingly, although the topic has become an important field in academia and also attracts the attention of policymakers around the globe, a universally accepted definition of the term has not yet been offered. Consequently, it comes to no surprise that there is no common operationalization, either. Instead, various measures for financial literacy have been developed, mostly based on a set of questions included in household surveys. Initially proposed as a starting point to measure financial literacy, Lusardi and Mitchell (

2008

) have developed a parsimonious set of three questions related to financial literacy which have now become known as the

Big Three

. By now, these questions have become the gold standard in measuring individuals' financial knowledge and abilities and have been incorporated in many household surveys around the world, including the novel PHF survey for Germany.

Focusing on the empirical evidence regarding the

Big Three

questions, we document that the level of financial literacy is generally rather low and we also find substantial differences between national economies and demographic cohorts. In particular, financial literacy turns out to be considerably lower in transition economies and lower-income economies as compared to industrial economies, a finding which is also corroborated in the recently conducted

Standard and Poors FinLit Survey

(Klapper et al.

2015

). According to Klapper et al. (

2015

) as well as our analyses of the data provided by the PHF survey, financial literacy levels of German citizens are among the highest in the world. However, even in Germany almost half of the survey participants are not able to answer all

Big Three

questions correctly, leaving room for substantial improvements of financial literacy. In addition, in Germany and elsewhere, the elderly and the young as well as the least educated and lowest-income individuals possess particularly low literacy levels. These groups have the highest propensity to commit financial mistakes. Thus, policy makers and interest groups around the world have put considerable effort in increasing peoples' financial literacy. As becomes obvious from our review of the literature, however, the educational initiatives yielded rather disappointing results and apparently, their capability to improve the quality of financial behavior is limited. Thus, improving the effectiveness of the programs seems key in order to literate individuals to sufficient levels. We also review the current literature on financial advice, since financial advice might act as a substitute for financial literacy, thereby improving individuals' financial decision making without treating them to extensive financial education programs. By and large, the corresponding evidence is inconclusive but promising if moral hazard issues leading to conflicts of interests in the advisor-advisee relationship can be effectively mitigated or even eliminated.
7.2

Directions for future research

In what follows, we would like to highlight a number of topics which—from our perspective—represent fruitful avenues for future research. First, the majority of research on financial literacy has been conducted with a geographic focus on the U.S. and there is far less evidence available for Europe, e.g. for Germany. Does this focus on the U.S. pose an issue to our knowledge about individuals' financial literacy? We believe the answer is yes: financial decisions faced by U.S. citizens and German citizens, for instance, differ a great deal.

Specifically, one of the major financial issues pertaining to the asset side of a U.S. household's balance sheet is the investment decision concerning 401(k) plans as part of a company pension scheme. How much should one contribute to the plan in order to maximize matching of the employer and how should the contributions be invested wisely across asset classes and financial products? In Germany, unlike in the U.S., decisions regarding defined contribution plans are much less relevant. On the one hand, the public pension system is still comparably generous and payments from corporate pension plans for retirees are of subordinate importance. On the other hand, plan participants in Germany usually do not have the discretion to determine the asset allocation of contributions. Thus, financial literacy is not as relevant when it comes to this decision. Although the designs of company pension schemes differ substantially between the two countries, a German household's choice whether or not to participate in state-subsidized private pensions schemes (most prominently

Riester

plans) is comparable to decisions faced when dealing with 401(k) plans along several dimensions. Consequently, we encourage more research in the vein of Coppola and Gasche (

2011

) in the future.

From a German perspective, we currently see one additional major issue with respect to financial literacy and financial decision making that is rarely addressed in the literature, most probably because it is rather specific to Germans savers: due to a lack of knowledge and experience regarding stockholdings and equity mutual fund investments, an overwhelming majority of German households is still exclusively invested in savings products. Clearly, this investment strategy is quasi deterministically associated with a loss in household purchasing power in times of interest levels persistently close to zero. We believe that extending the conceptualization and measurement of financial literacy including knowledge about the long-run distributional characteristics of stock investment returns can be a promising avenue to increase the below-average willingness to participate in the stock market observed among Germans.

Turning the attention to the liability side of the household's balance sheet, U.S. Americans and Germans also face very different challenges. While households in the U.S. were exposed to highly complex mortgage arrangements prior to the subprime crisis, plain vanilla debt contracts have been dominant in Germany ever since. In addition, issues like illiterate credit card use have typically been much less of an issue in Germany since credit card balances are charged against the cardholder's bank account on a monthly basis. Thus, financial debt literacy appears less of an issue in Germany than in the U.S.

Recently, there has been notable progress in fostering research outside the U.S. The PHF survey, for instance, gives researchers the opportunity to relate financial literacy to various demographics as well as to a number of financial decisions of households. With the second wave of the PHF survey available for scientific use since April 2016, scholars are now able to conduct detailed analyses of households' financial situation across subjects and over time. We are looking forward to interesting and novel insights concerning the relationship between financial literacy and financial behavior in the German context based on this rich dataset. For future cross-country analyses, it is crucial that survey data is elicited using a consistent methodological approach (e.g. identical selection and training criteria for interviewers) in all participating countries to ensure comparability of outcomes. The launch of the

Eurosystem Household Finance and Consumption Survey

(HFCS)—the German part of it covered via the PHF—marks a first step in this direction. Similarly, we embrace other cross-country initiatives such as the above-mentioned OECD initiative and S&P's

Finlit Survey

both of which elicit consistent and readily comparable data across a number of different countries.

Although we observe a positive development with regard to cross-country household surveys, we have to acknowledge that research based on household surveys is anything but unproblematic. As Meyer et al. (

2015

) have shown, household surveys are subject to issues regarding the quality of data elicited. Related challenges affect both the measurement of financial literacy itself and the financial behavior captured in surveys on households' financial situation. We believe that linking individuals' financial literacy directly with their real-world financial decisions, as is done in Choi et al. (

2011

), Clark et al. (

2015

) and Stolper (

2016

), for instance, is a promising approach in order to enhance the quality of empirical results obtained in financial literacy research.

Finally, the research we review in this paper relates to the relevance of financial literacy in the context of household finance. Although financial mistakes associated with low financial literacy correlate with high costs for households, low levels of financial literacy might also be important in a business context.

38

Decision makers in blue-collar business, for instance, often are not especially knowledgeable in financial matters. Yet, they frequently make a range of finance-related decisions such as paying invoices in due time and aggregating costs for estimates they give. Of course, one could argue that individuals are less prone to financial mistakes if they act as professionals. However, the literature on behavioral biases has documented less severe but still significant investment mistakes conducted by, for instance, money managers (e.g., Kaustia et al.

2008

). In this spirit, the research of Bodnaruk and Simonov (

2015

) is an interesting example for simultaneously analyzing individuals' financial behavior in the private and in the professional domain. To us, it appears that financial literacy in the business context is an interesting and still largely under-researched subject: as can be inferred from Table

1

, 19 out of the 20 most cited papers focus on financial decisions of households, the only exception being McDaniel et al. (

2002

), who discuss financial literacy in the context of audit committees.
7.3

Policy recommendations

As far as policy recommendations are concerned, we propose a holistic approach. Based on the empirical evidence on individuals' financial literacy level that we review in this paper, it seems important to pursue a policy mix that does not treat financial literacy and financial education separately but instead incorporates their interdependence with potential substitutes like financial advice, the implementation of an intelligent choice architecture and a thoughtful regulation concerning financial products offered to households. Indeed, this multi-dimensional approach is currently the way of choice in many countries. Moreover, even though evidence regarding the effectiveness of financial education programs with respect to financial decision making is at best mixed, we want to highlight the relevance of enabling citizens when it comes to financial matters. Prior to the financial crisis, many private (and professional) market participants bought products whose underlying mechanisms they did not understand, e.g. overly complex certificates or mortgage backed securities (MBS). Collectively, these financial products were dismissed as toxic or—quoting investment legend Warren Buffet—as "

weapons of mass destruction

". However, financial innovations have served their goal to improve and facilitate financial products and services for the most part. In fact, functioning financial markets require peoples' acceptance of financial innovations and sufficient knowledge and ability regarding financial matters is an indispensable foundation for this acceptance.
Acknowledgements
We gratefully acknowledge the comments of Christina Bannier and Wolfgang Breuer, the editors, as well as two anonymous referees. Moreover, we would like to thank Dennis Bär, Daniel Czaja, Lea Meyer and Tobias Meyll for excellent research assistance.
Open Access
This article is distributed under the terms of the Creative Commons Attribution 4.0 International License (
http://​creativecommons.​org/​licenses/​by/​4.​0/​
), which permits unrestricted use, distribution, and reproduction in any medium, provided you give appropriate credit to the original author(s) and the source, provide a link to the Creative Commons license, and indicate if changes were made.
Appendix: Panel on Household Finances (PHF): data description
We draw on novel survey data on household finance and wealth provided by the Deutsche Bundesbank in the
Panel on Household Finances
(PHF) which is representative of the German population. In the first wave of the PHF, face-to-face computer aided interviews were conducted between September 2010 and July 2011 with the financially knowledgeable persons (one per household) in a sample of 3565 households in total. Questions cover a wide range of items related to the household balance sheet including financial and non-financial assets as well as household debt. This information is then supplemented with demographic and psychological characteristics of the household members as well as a household-specific financial literacy score. The PHF features (a) survey weights to adjust for the oversampling of wealthy households during the data collection and (b) multiple imputations in order to mitigate the issue of missing data due to item non-response. We make use of the survey weights and the corresponding replicate weights to adjust point estimates as well as variance and standard error estimates in all our baseline analyses. Note that this correction of the sampling design does not materially affect our results (corresponding tables available upon request). Similarly, for the independent variables, we use the average of the five imputed values provided in the data. For robustness, we re-estimate our main model using multiple imputations via Rubin's rule (Rubin
1996
). Results remain virtually unchanged and are also available upon request.