01.12.2016 | Original article | Ausgabe 1/2016 Open Access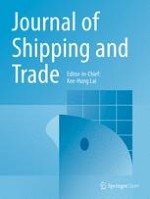 Financial modelling and analysis of the management of dredged marine sediments – development of a decision support tool
Zeitschrift:
Autoren:

Joseph Harrington, J. Murphy, M. Coleman, D. Jordan, G. Szacsuri
Wichtige Hinweise
Competing interests
Please note that none of the authors have any competing interests, financial or non-financial (I have read in detail the requirements as outlined in the email from the Editor originally dated the 2nd September, 2015). In summary the authors declare that they have no competing interests.
Authors' contributions
The contributions of the authors are as follows (after detailed review of the email from the Editor dated the 2nd September, 2015): JH carried out the analysis of the economic modelling results and its interpretation and was the main author and drafted the paper. JM was involved in the economic analysis and its critical interpretation and results. MC sourced all input data related to the direct, indirect and induced multipliers and prepared the model code. DJ developed and provided the economic methodology implemented in the model, interpreted/critically analysed model output results and contributed to drafting sections of the paper. GS was responsible for implementation of the model and developed all model results and assisted JH in the drafting of the original manuscript. All authors read and approved the final manuscript.
Abstract
Objective
The management of dredged sediments is a major challenge for many ports and harbours who need to maintain navigable access. Sediment volumes produced may be significant and expensive to manage. This paper presents financial modelling and analysis for the management of dredged marine sediment using a financial model developed which has the potential to be used as decision support tool by stakeholders in the Sector including Ports, Engineering Consultancies and Regulators.
Data/Methodology
A decision support tool has been developed to assess the financial aspect of a range of management uses for dredged marine sediments for a range of different countries. The model allows financial analysis of the full range of processes from sediment generation to ultimate end use. Required inputs include sediment characteristics, relevant logistical data, financial impact area on a national scale and financial data including direct costings.
Results/Findings
Results are presented for a specific beneficial use of dredged sediment (wetland creation). It outlines the potential of the decision support tool to financially assess a range of sediment management options. This will provide potentially valuable information for the optimum management of dredged marine sediments and allow comparison between traditional disposal options and potential beneficial use scenarios.
Implications for research/Policy
The financial model developed will assist stakeholders and decision makers, including Port Authorities, in assessing the economic feasibility of a range of beneficial uses of dredged sediments. Such financial analyses may indicate the potential for an expanded range of beneficial use options for dredged marine sediments and help change traditional attitudes towards this type of material, which has often been considered a waste. Ultimately it may influence policy at a National and at an EU level.