01.06.2015 | Ausgabe 1/2015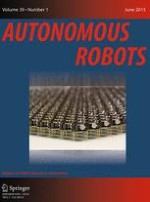 Finger contact sensing and the application in dexterous hand manipulation
Zeitschrift:
Autoren:

Hongbin Liu, Kien Cuong Nguyen, Véronique Perdereau, Joao Bimbo, Junghwan Back, Matthew Godden, Lakmal D. Seneviratne, Kaspar Althoefer
Abstract
In this paper we introduce a novel contact-sensing algorithm for a robotic fingertip which is equipped with a 6-axis force/torque sensor and covered with a deformable rubber skin. The design and the sensing algorithm of the fingertip for effective contact information identification are introduced. Validation tests show that the contact sensing fingertip can estimate contact information, including the contact location on the fingertip, the direction and the magnitude of the friction and normal forces, the local torque generated at the surface, at high speed (158–242 Hz) and with high precision. Experiments show that the proposed algorithm is robust and accurate when the friction coefficient
\(\le \)
1. Obtaining such contact information in real-time are essential for fine object manipulation. Using the contact sensing fingertip for surface exploration has been demonstrated, indicating the advantage gained by using the identified contact information from the proposed contact-sensing method.