01.02.2011 | Brief Originals Kurzoriginalia | Ausgabe 1/2011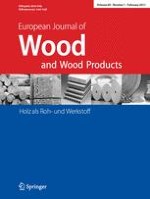 Finger jointing of green Black pine wood (
Pinus nigra L.

)
Zeitschrift:
Autoren:

George Mantanis, Sotirios Karastergiou, Ioannis Barboutis
Abstract
This research work presents a study on the finger jointing of green Black pine wood (
Pinus nigra L.
) using a phenol resorcinol formaldehyde adhesive. The effect of finger joint orientation (vertical or horizontal fingers) was also examined. In general, the results from the measurements of modulus of rupture and modulus of elasticity of green glued finger-jointed specimens indicated that green gluing of Black pine wood is feasible.