2018 | OriginalPaper | Buchkapitel
Fingerprint Classification Using Conic Radon Transform and Convolutional Neural Networks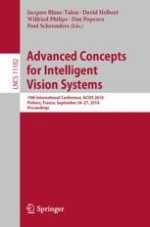 Erstes Kapitel lesen
Autoren: Dhekra El Hamdi, Ines Elouedi, Abir Fathallah, Mai K. Nguyen, Atef Hamouda
Abstract
Fingerprint classification is a useful technique for reducing the number of comparisons in automated fingerprint identification systems. But it remains a challenging issue due to the large intra-class and the small inter-class variations.
In this work, we propose a novel approach to perform fingerprint classification based on combining the Radon transform and the convolutional neural networks (CNN). The proposed approach is based on the Conic Radon Transform (CRT). The CRT extends the Classical Radon Transform (RT) to integrate an image function f(x,y) over conic sections. The Radon technique enables the extraction of fingerprint's global characteristics which are invariant to geometrical transformations such as translation and rotation.
We define an expansion of convolutional neural networks input features based on CRT. Thus, we perform first RT over conic sections on source image, and then use the Radon result as an input for convolutional layers.
To evaluate the performance of this approach, we have driven tests on the NIST SD4 benchmark database. The obtained results show that this approach is competitive to other related methods in terms of accuracy rate and computational time.