01.01.2015 | Original Paper | Ausgabe 1/2015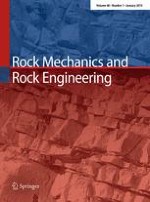 Finite Deformation Analysis on Sandstone Subjected to Thermo-Hydro-Mechanical (T-H-M) Coupling
Zeitschrift:
Autoren:

Yanan Gao, Louis Ngai Yuen Wong, Feng Gao
Wichtige Hinweise
Y. Gao and L. N. Y. Wong contributed equally as co-first authors.
Abstract
Temperature, water, and confining pressure are crucial environmental factors affecting rock strength and deformability. In this work, temperature–water–confining pressure coupled compression experiments were conducted on sandstone. The effects of each influencing factor on rock strength and deformability are statistically analyzed and discussed. The results suggest that the confining pressure has the most significant effects on the Young's modulus, Poisson's ratio, and peak stress, whereas temperature has the least effect on these three parameters under the present test conditions. The evolution of the Young's modulus, Poisson's ratio, and peak strength under the influence of the three environmental factors is also studied, from which linear correlations of those parameters with the three factors are obtained. In addition to the parametric study, finite deformation theory and the mean rotation angle are employed to analyze the nonlinear deformation behavior of the test rock, which cannot be comprehensively described by the Young's modulus and Poisson's ratio alone. The evolution of the mean rotation angle with respect to stress, strain, and tangent modulus is studied and discussed. A constitutive model based on the mean rotation angle and finite deformation theory is also proposed.