2006 | OriginalPaper | Buchkapitel
Finite Element Method In First-principles Calculation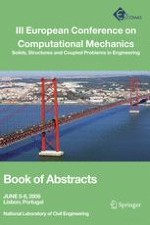 Erstes Kapitel lesen
Autoren: Yoshinori Shiihara, Osamu Kuwazuru, Nobuhiro Yoshikawa
Verlag: Springer Netherlands
We propose a finite element implementation for the first-principles calculation based on the Density Functional Theory (DFT). The atomic-scale simulation based on the DFT plays an important roll to predict various material properties such as the physical strength. Such simulation seems contribute much to design of new materials of useful functions without loborious compricated experiments. Practical complex atomic systems, such as interfaces of metal/ceramics, contain huge number of atoms and it certainly results in large-scale calculation. The traditional DFT scheme based on the plane-wave basis is not higly recommended for the large-scale calculation because the plane-wave basis scheme requires the Fast Fourier Transforms (FFT). The FFT requires all-node communications, which result in reduction of the parallel-computing performance. An advantage of the DFT scheme based on the Finite Element Method (FEM) is its parallelability. The localization of the finite elements in real space corresponds to the localization of components in the global matrix. This feature is suitable for the massively parallel computation.
We formulate the DFT scheme based on the norm-conserving pseudo-potential technique by the FEM. The Kohn-Sham equation as the governing equation of the DFT is discretized by the Galerkin's weighted residual method. The Kohn-Sham equation is treated as a integral form in the FEM scheme and the nonlocal pseudo-potential can be easily estimated by the integral form. In our finite-element formulation the divergence term in the periodic local potential is treated by the Ewald scheme[
1
]. Inadequate setting of parameters employed in the Ewald scheme gives wrong potential, yield incorrect results and also causes the inefficient calculation. We carry out the parameter setting for the Ewald scheme in the real-space method. The optimized parameters are systematically obtained and the computational efficiency and the numerical accuracy is conserved.
Test calculation for a silicon dimer is performed. Through the calculation, we show the fact that 1) Our FEM formulation follows the variational principle. 2)The free energy obtained by our FEM formulation is consistent with the highly-converged value obtained by the established plane-wavebased package to the meV/atom order. 3) The order of the error in the free energy is O(element size4) in our FEM formulation. 4) The equilibrium bonding length predicted by our FEM code is consistent with that of the plane-wave-based package to the mÅ order.