01.03.2011 | Ausgabe 1/2011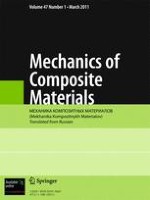 Finite-element modeling of damage evolution in heterogeneous viscoelastic composites with evolving cracks by using a two-way coupled multiscale model
Zeitschrift:
Autoren:

F. V. Souza, L. S. Castro, S. L. Camara, D. H. Allen
Wichtige Hinweise
Russian translation published in Mekhanika Kompozitnykh Materialov, Vol. 47, No. 1, pp. 133–150, January-February, 2011.
This paper presents results obtained using a two-way coupled multiscale model capable of predicting the mechanical response of viscoelastic heterogenous materials subjected to dynamic and quasi-static loadings. The model can account for the two major energy dissipation mechanisms in composites: viscoelasticity and crack evolution at multiple time and length scales. There are many applications that would benefit from the level of complexity of this model. For example, protective devices are submitted to impacts and therefore need to dissipate a great amount of energy to be effective. By designing such structures with the aid of two-way coupled multiscale models that take into account important microstructural variables and different dissipation mechanisms, one can reduce the amount of laboratory experiments and thus minimize the overall cost of design. In this paper, a brief description of the two-way coupled multiscale model developed is given and some example problems are discussed in order to demonstrate its capabilities.