2006 | OriginalPaper | Buchkapitel
Finite elements method analysis of influence of contact phenomena on structure-subsoil interaction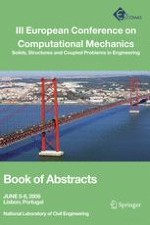 Erstes Kapitel lesen
Autor: Marcin Maździarz
Verlag: Springer Netherlands
The contact between structure and subsoil is formulated by using 3D elasto-viscoplastic relationships incorporating pore pressure. Finite element implementation is then performed for the geotechnical structure, subsoil and contact relationships. Contacts elements with zero thickness are carefully developed, allowing for slip and stick. Solid isoparamtric elements are also developed. The novelty of the contribution consists of using elasto-viscoplastic model incorporating pore pressure for 3D contact. Using implemented spatial elements in the program HYDRO-GEO elasto-viscoplastic analysis of interaction between structure and subsoil was carried out. Earth dam interacting with concrete weir and excursion trough in one of Polish earth dams (Dobczyce) was analyzed. Simulation of deformation of structure and slide of soil on surface of the retaining wall was studied.
The goal of this study was to examine both from theoretical and numerical point of view the influence of contact phenomena on structure-subsoil interaction. The numerical analysis was carried out by using finite element methods including spatial contact elements with zero thickness. 3D formulation of the interacting structure with subsoil was developed. The program HYDRO-GEO enables to perform numerical calculations of the considered complex contact problem in the 3D case. The paper can be divided into two essential parts.
The first part is concerned with discretized 3D description of basic relationships by using the finite element method. To do this 3D solid isoparametric elements were introduced. Pore pressure was taken into account. Spatial contact finite elements were developed and incorporated into the program. These elements cover elasto-viscoplastic contact behavior and take into account pore pressure, slip and stick range.
In numerical part of the paper the developed discrete model was implemented into the computer program HYDRO-GEO. Then the elasto-viscoplastic interaction between structure and subsoil can be analyzed. A complex system consisting of the earth dam and concrete weir was studied (one of Polish earth dams in Dobczyce).