07.02.2018 | Ausgabe 2/2018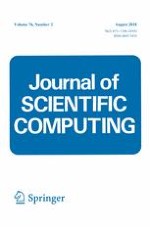 Finite Fourier Frame Approximation Using the Inverse Polynomial Reconstruction Method
Zeitschrift:
Autoren:

Xinjuan Chen, Jae-Hun Jung, Anne Gelb
Abstract
In several applications, data are collected in the frequency (Fourier) domain non-uniformly, either by design or as a consequence of inexact measurements. The two major bottlenecks for image reconstruction from non-uniform Fourier data are (i) there is no obvious way to perform the numerical approximation, as the non-uniform Fourier data is not amenable to fast transform techniques and resampling the data first to uniform spacing is often neither accurate or robust; and (ii) the Gibbs phenomenon is apparent when the underlying function (image) is piecewise smooth, an occurrence in nearly every application. Recent investigations suggest that it may be useful to view the non-uniform Fourier samples as Fourier frame coefficients when designing reconstruction algorithms that attempt to mitigate either of these fundamental problems. The inverse polynomial reconstruction method (IPRM) was developed to resolve the Gibbs phenomenon in the reconstruction of piecewise analytic functions from spectral data, notably Fourier data. This paper demonstrates that the IPRM is also suitable for approximating the finite inverse Fourier frame operator as a projection onto the weighted
\(L_2\)
space of orthogonal polynomials. Moreover, the IPRM can also be used to remove the Gibbs phenomenon from the Fourier frame approximation when the underlying function is piecewise smooth. The one-dimensional numerical results presented here demonstrate that using the IPRM in this way yields a robust, stable, and accurate approximation from non-uniform Fourier data.