17.10.2016 | Original Paper | Ausgabe 1/2018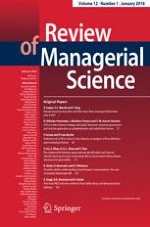 Firm level R&D intensity: evidence from Indian drugs and pharmaceutical industry
Zeitschrift:
Autoren:

Shilpi Tyagi, D. K. Nauriyal, Rachita Gulati
Abstract
This paper analyzes the R&D profile of Indian drug and pharmaceutical industry during the period 2000–2013, and the factors that influence a pharmaceutical firm's decision to undertake R&D activities. The study period from 2000 to 2013 has been characterized by a rapid growth in industry's R&D expenditures, as part of the strategic shift, induced by the Patents (Amendment) Act, 2005. Using the real financial data for the top 91 publicly listed Indian domestic pharmaceutical companies, the study provides new evidence on drivers of R&D intensity in Indian Drugs and Pharmaceutical industry. A panel data random effects Tobit model along with OLS model using firm fixed effects are applied to identify the factors affecting the R&D intensity of the sample firms. Furthermore, McDonald and Moffitt in Rev Econ Stat 62(2):318–321, (
1980
) procedure is used to decompose Tobit estimates. The empirical findings of the study reveal that firm's size, past year profitability, past innovative output, leverage ratio; past cash flow; export and import intensities of the firm tend to significantly impact the R&D intensity. While firm size exhibits a non-linear relationship, cash flow, past innovative output shows a positive and significant relationship with R&D intensity. Further, patent count and firm's overseas presence, considered as additional important determinants of firm-level R&D intensity, influences R&D positively. Lastly, global orientation of Indian pharmaceutical firms has been found to impact R&D activities considerably.