06.06.2019 | Ausgabe 3/2019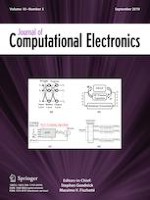 First-principles calculations of the structural, electronic, and optical properties of a ZnS/GaP van der Waals heterostructure
Zeitschrift:
Autoren:

Aihu Xiong, Xiaolong Zhou
Wichtige Hinweise
Publisher's Note
Springer Nature remains neutral with regard to jurisdictional claims in published maps and institutional affiliations.
Abstract
Coupling with a narrow-band-gap semiconductor to form a van der Waals heterostructure is another feasible and simple strategy to improve the electronic and optical properties of the pure ZnS semiconductor. Using first-principles calculations based on density functional theory, the structural, electronic, and optical properties of such a ZnS/GaP heterostructure composed of GaP (1 1 1) and ZnS (1 1 1) are investigated herein. The results demonstrate that ABI stacking with an interlayer spacing of 3.1 Å is the most stable structure, having binding energy of 1.4 eV. Compared with an isolated monolayer, the light absorption characteristics of the ZnS/GaP heterostructure are greatly improved, showing a strong absorption peak in the ultraviolet, but the wide absorption region is extended to the visible light region, which still exhibits high absorption. Furthermore, by controlling the interlayer spacing or applying an external electric field or plane strain, the band gap of the heterostructure can be significantly and continuously tuned, and a direct–indirect band gap and semiconductor–metal transition occurs during this process. The excellent optical properties of the ZnS/GaP heterostructure, especially in the visible region, and its adjustable band gap characteristics indicate potential applications as photoanode materials and in optoelectronic devices.