13.08.2018 | Ausgabe 4/2018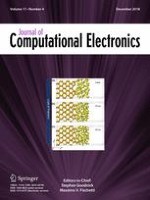 First-principles study of efficient phenothiazine-based D–π–A organic sensitizers with various spacers for DSSCs
Zeitschrift:
Autoren:

A. Arunkumar, S. Shanavas, P. M. Anbarasan
Wichtige Hinweise
Electronic supplementary material
Abstract
Design of highly efficient sensitizers is one of the most significant issues for dye-sensitized solar cells (DSSCs). In this work, we designed and screened a series of phenothiazine-derivative dyes with donor–π spacer–acceptor (D–π–A) architecture based on a structural configuration with a phenothiazine group as the donor (D) part, a thiophene as the linker (π), and a 2-cyanoacrylic acid moiety (A) as the electron-acceptor segment, comparing the effects of different π-spacer groups between the electron donor and acceptor. The effects of different electron-deficient linker units on the absorption/emission spectra and photovoltaic properties were investigated by a combination of density functional theory (DFT) and time-dependent DFT (TD-DFT) approaches. Based on the ground- and excited-state geometries, the absorption and emission spectra were calculated using the TD-DFT method. Different exchange–correlation functionals were first applied to establish a proper methodology for calculating the excited-state energy of the reference dye, known as TC104. The theoretical results calculated using the TD-CAM-B3LYP/B3LYP method with 6-311++G(d,p)/6-31G(d,p) basis set were found to agree well with the absorption and emission wavelengths for TC104 found experimentally. Overall, dye molecules SP1–SP4 (especially SP2 and SP4) were found to be promising sensitizers for highly efficient organic DSSCs.
Graphical abstract
×