03.06.2020 | Full Research Article | Ausgabe 1/2021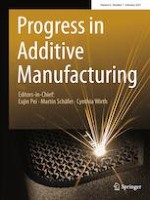 First report on fabrication and characterization of soybean hull fiber: polymer composite filaments for fused filament fabrication
Zeitschrift:
Autoren:

Vamsi Krishna Balla, Jogi Ganesh Dattatreya Tadimeti, Kavish Sudan, Jagannadh Satyavolu, Kunal H. Kate
Wichtige Hinweise
Electronic supplementary material
Publisher's Note
Springer Nature remains neutral with regard to jurisdictional claims in published maps and institutional affiliations.
Abstract
The United States is world's largest producer of soybeans and significant amount of residual soybean hulls is generated during soybean processing. Soymeal and animal feed are the two current low-value outlets for the disposal of the hulls. To enhance the value of the soy hulls, we have made an attempt to use soybean hull-derived fibers as reinforcement in polymer matrix composite filaments for fused filament fabrication (FFF)-based additive manufacturing. In our approach, the soybean hulls were pre-treated with dilute acid hydrolysis followed by defibrillation of the hydrolyzed hulls. Both chemically treated soybean hull fibers (CTSHF) and untreated soybean hull fibers (UTSHF) with 5 and 10 wt.% concentrations were mixed within a thermoplastic copolyester (TPC) elastomer matrix to prepare composite filaments for FFF 3D printing. Studies were performed to understand the influence of CTSHF and UTSHF on the rheological, microstructural, and mechanical properties of these composite filaments. The results indicated improved fiber defibrillation with high-shear mixing and dilute acid hydrolysis. Interestingly, the addition of 5 and 10 wt.% CTSHF to TPC matrix decreased the viscosity when compared to virgin TPC. Furthermore, the CTSHF reduced the amount of porosity, enhanced fiber distribution, and fiber–matrix interfacial adhesion in TPC-CTSHF composites, resulting in enhanced mechanical properties compared to TPC-UTSHF composites. We expect that our study will lead to further investigations on soybean hull fiber-reinforced polymer composites for variety of applications.