2019 | OriginalPaper | Buchkapitel
Fisheries of Egyptian Delta Coastal Wetlands; Burullus Wetland Case Study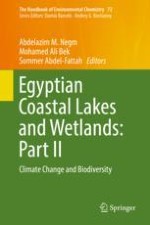 Erstes Kapitel lesen
Autor: Magdy T. Khalil
Abstract
The occurrence of brackish and saline waters in Delta Egyptian wetlands during the seventies and early eighties of the last century have resulted in a large variety of fish species inhabiting these ecosystems; approximately 32 species were recorded during these periods. Decreasing salinity and domination of drainage water during the last four decades has led to a change in species composition and biodiversity of fish and other organisms. A field survey conducted during 2014 showed that the diversity of fish in the Burullus wetland has declined from 32 to 25 species. All the species which have disappeared are of marine affinity. On the other hand, the total production of this wetland has increased gradually from 7,349 tonnes in 1963 to 63,980 tonnes in 2014.
As far as the main groups of fishes are concerned, a gradual decrease in the mullet catch was recorded from about 44.7% in 1963 to 15.5% in 2014 of the total catch. This was accompanied by an increase of tilapia production from 42.8% in 1963 to 72% in 1992, and then decreased to about 62.0% in 2014. The shift was more pronounced during the eighties of the last century. On the other hand, some fresh water fish; like
Clarias gariepinus
and
Bagrus bajad
increased their production during the last seven years.