12.06.2019 | Original research | Ausgabe 3/2019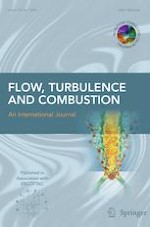 Flameless Combustion Characteristics of Producer Gas Premixed Charge in a Cyclone Combustor
Zeitschrift:
Autoren:

Lemthong Chanphavong, K.A. Al-Attab, Z. A. Zainal
Wichtige Hinweise
Publisher's Note
Springer Nature remains neutral with regard to jurisdictional claims in published maps and institutional affiliations.
Abstract
Producer gas (PG) flameless combustion in a premixed cyclone combustor was investigated experimentally and numerically. The experiment was carried out over different premixed charges of air/fuel mixture and inlet nozzle diameters under PG fuel input power up to 80 kW. Exhaust temperature was above 1050 K for the whole operating range with CO emission below 0.08 Vol.% and NOx emission of 420 ± 30 ppm. Swirl flow field, internal hot flue gas recirculation, and temperature distributions inside the combustor were numerically studied. The numerical results were validated by the experimental data and it confirmed the achievement of temperature uniformity throughout the combustion volume when operated under flameless combustion mode. The reaction regime of PG flameless combustion was further analyzed with respect to turbulent scale characteristics. The present PG flameless combustions were typified by both moderate Damköhler and Karlovitz numbers, falling into the Flamelets in eddies regime.