2020 | OriginalPaper | Buchkapitel
Flash-Floods: More Often, More Severe, More Damaging? An Analysis of Hydro-geo-environmental Conditions and Anthropogenic Impacts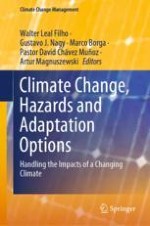 Erstes Kapitel lesen
Autoren: Axel Bronstert, Irene Crisologo, Maik Heistermann, Ugur Ozturk, Kristin Vogel, Dadiyorto Wendi
Abstract
In recent years, urban and rural flash floods in Europe and abroad have gained considerable attention because of their sudden occurrence, severe material damages and even danger to life of inhabitants. This contribution addresses questions about possibly changing environmental conditions which might have altered the occurrence frequencies of such events and their consequences. We analyze the following major fields of environmental changes.
Altered high intensity rain storm conditions, as a consequence of regional warming;

Possibly altered runoff generation conditions in response to high intensity rainfall events;

Possibly altered runoff concentration conditions in response to the usage and management of the landscape, such as agricultural, forest practices or rural roads;

Effects of engineering measures in the catchment, such as retention basins, check dams, culverts, or river and geomorphological engineering measures.
We take the flash-flood in Braunsbach, SW-Germany, as an example, where a particularly concise flash flood event occurred at the end of May 2016. This extreme cascading natural event led to immense damage in this particular village. The event is retrospectively analyzed with regard to meteorology, hydrology, geomorphology and damage to obtain a quantitative assessment of the processes and their development.
The results show that it was a very rare rainfall event with extreme intensities, which in combination with catchment properties and altered environmental conditions led to extreme runoff, extreme debris flow and immense damages. Due to the complex and interacting processes, no single flood cause can be identified, since only the interplay of those led to such an event. We have shown that environmental changes are important, but—at least for this case study—even natural weather and hydrologic conditions would still have resulted in an extreme flash flood event.