15.10.2021 | Original Article | Ausgabe 4/2021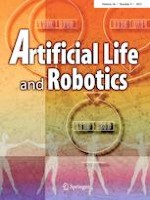 Flight control system design for a tandem rotor UAV robot in the presence of wind field disturbances
Zeitschrift:
Autoren:

Xiongshi Xu, Keigo Watanabe, Isaku Nagai
Wichtige Hinweise
This work was presented in part at the 26th International Symposium on Artificial Life and Robotics (Online, January 21–23, 2021).
Publisher's Note
Springer Nature remains neutral with regard to jurisdictional claims in published maps and institutional affiliations.
Abstract
This paper presents the flight control of coupling both the position and attitude for a tandem rotor UAV robot that has two 2-DOF tiltable coaxial rotors in the presence of wind field disturbance. The performance of the proposed computed torque control strategy showed some limitations considering the wind field disturbances in the previous study, in which the dynamical models of the proposed tandem rotor UAV robot and the model of the wind field disturbances have been discussed. To improve the flight performance of the UAV robot, a classical backstepping controller is designed and the system using this controller is proved to be asymptotically stabilized by the Lyapunov stability theory when not considering the external disturbance. Also, a robust backstepping controller for the UAV robot considering the wind field disturbances is proposed, which includes the integral of error in the Lyapunov function, together with using a saturation function in the controller. Finally, some numerical simulations are demonstrated to verify the performance of the proposed strategies for the UAV robot.