24.08.2017 | Ausgabe 6/2017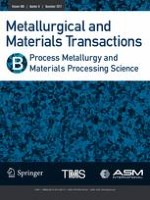 Flotation of Metallurgical Grade Silicon and Silicon Metal from Slag by Selective Hydrogen Fluoride-Assisted Flotation
Zeitschrift:
Autoren:

E. Larsen, R. A. Kleiv
Wichtige Hinweise
Manuscript submitted June 4, 2017.
Abstract
Flotation experiments performed on metallurgical grade silicon have demonstrated that silicon (Si) can be floated in diluted solutions of hydrogen fluoride (HF) and a frother. The recovery was found to depend on HF conditioning time, frother type, and the concentration of both HF and frother. Although Brij 58 produced the highest recoveries of the frothers that was tested, good recoveries were also obtained for Flotanol C07. Chemical analyses showed that the flotation products were purer than the corresponding feed materials, and that most impurity elements were concentrated in the tailings. A case study on cleaning of slag containing 36 pct metallurgical silicon showed promising results concerning the recovery of silicon by flotation.