09.03.2020 | Research Article-Mechanical Engineering | Ausgabe 7/2020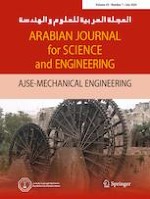 Flow and Thermal Fields of a Ferrofluid in Rectangular Enclosures with Two Heated Fins Under Effects of a Variable Electromagnetic Force-Dependent Viscosity
Zeitschrift:
Autor:

Z. Z. Rashed
Abstract
Ferroconvective flow and thermal fields of Fe
3
O
4
–H
2
O ferrofluid that has a variable dynamic viscosity resulting from two heated fins within a rectangular enclosure have been examined. The dynamic viscosity is assumed as a function of a variable magnetic field that is produced from a magnetic wire below the bottom wall of the domain. The governing equations are formulated based on the principles of magnetohydrodynamic and the ferrohydrodynamics. The control volume solver is applied to solve the dimensionless system of the governing equations. The controlling parameters in this study are the Hartmann number Ha, the magnetic number Mn, the height of the fins
H
and the nanoparticles volume fraction
ϕ
. The obtained results revealed that the average Nusselt number is supported by 36.09% at
ϕ
 = 0%, 35.83% at
ϕ
 = 2%, 34.29% at
ϕ
 = 5% and 48.15% at
ϕ
 = 10% when height of the fins
H
is growing from 0 to 0.5. Also, as Ha is increased from 0 to 50, there is a reduction by 50% in values of the stream function obtained.