02.06.2020 | Research Article-Mechanical Engineering | Ausgabe 7/2020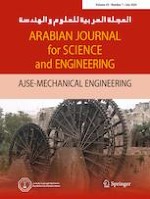 Flow of Oldroyd-B Fluid over a Rotating Disk Through Porous Medium with Soret–Dufour Effects
Zeitschrift:
Autoren:

Abdul Hafeez, Masood Khan, Jawad Ahmed, Awais Ahmed, Zahoor Iqbal
Abstract
A study of Darcy flow of magnetized Oldroyd-B fluid over a rotating porous disk is analyzed. The heat and mass transport mechanism are analyzed with the significant features of thermal diffusion (Soret) and diffusion thermo (Dufour). Additionally the influence of chemical reaction is also considered on solutal field. The Von Karman transformations are used and in order to obtain the similarity equations which are then integrated numerically on
\(\left[ 0,\infty \right) \)
through BVP Midrich technique in Maple. The results are given through graphical structure and tabular form. A brief parametric survey is conducted against velocity fields, temperature and concentration distributions in the form of graphs. The corresponding heat transfer rate and wall concentration gradient are displayed through tables with different physical effects. The comparison tables are presented to assure the validity of our numerical scheme with the past outcomes. It is revealed that the velocity fields decline with the effect of porosity parameter. The heat transfer rate rises significantly with diminishing value of Soret number.