05.01.2018 | Original Paper | Ausgabe 2/2018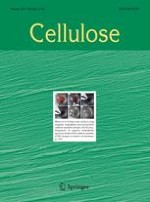 Flow through autohydrolysis of spruce wood chips and lignin carbohydrate complex formation
Zeitschrift:
Autoren:

Dmitry Tarasov, Mathew Leitch, Pedram Fatehi
Wichtige Hinweise
Electronic supplementary material
Abstract
Autohydrolysis technology is widely used for extracting lignocellulose from wood chips. In this study, the flow through autohydrolysis of spruce wood chips was studied fundamentally. In addition to rising temperature to 185 °C and prolonging time of hydrolysis to 75 min, a flow rate of 2 L/min led to significant lignocellulose removal from wood chips. However, the lower temperature of 170 °C, 15 min and flow rate of 6 L/min led to lignocellulose with larger molecular weight in the hydrolysis liquor. Gel permeation chromatography analysis confirmed the existence of lignin–carbohydrate complexes (LCC) in the hydrolysis liquors. The compositions of lignin, hemicelluloses and LCC in hydrolysis liquors were related to autohydrolysis conditions. Nineteen percent of lignin moieties were in LCC form in the hydrolysis liquor produced under the conditions of liquid/solid (L/S) ratio of 10 (wt/wt), 180 °C and 15 min. Furthermore, the hydrolysis liquor produced under the conditions of L/S ratio of 5/1, 190 °C and 15 min contained 89% of lignin in LCC forms. Moreover, the efficiencies of membrane dialysis, acidification and ethanol extraction in extracting lignocellulose were different for different hydrolysis liquors implying that the properties of hydrolysis liquors (and thus the hydrolysis conditions) would significantly affect the performance of downstream processes for isolating lignocellulose from hydrolysis liquors.