01.03.2018 | Chemical routes to materials | Ausgabe 11/2018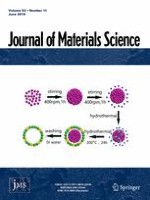 Flower-like silver nanocrystals: facile synthesis via a gas–solution interface technique
Zeitschrift:
Autoren:

Larisa B. Gulina, Valeri P. Tolstoy, Igor A. Kasatkin, Sergey A. Fateev
Abstract
In this paper, flower-like Ag nanocrystals and their fractal networks were successfully synthesized by gas–solution interface technique at the surface of AgNO
3
water solution with the assistance of ammonium citrate and of gaseous N
2
H
4
used as reductant. The synthesized flower-like silver structure consisted of a large number of petal-like silver nanoplates. They were characterized by scanning and transmission electron microscopy, absorption UV–Vis spectroscopy, and X-ray diffraction. In addition to the standard silver
fcc
modification, the nanostructures contained the hexagonal polymorph (4H-Ag) in the amount of about 5%. The effect of pH of the solution on the morphology of nanoparticles and on the silver crystal structure was examined. Depending on the time of treatment with gaseous hydrazine, it was possible to obtain either separate flower-like nanoparicles and their fractal networks, or continuous films formed by rather closely packed petal-like nanoparticles. The surface-enhanced Raman scattering effect was observed, and the most intense interaction of laser beam with the silver nanoparticles occurred when the solution side of the synthesized film was irradiated.