01.06.2015 | Ausgabe 1-2/2015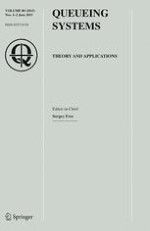 Fluid approach to two-sided reflected Markov-modulated Brownian motion
Zeitschrift:
Autoren:

Guy Latouche, Giang Nguyen
Abstract
We extend to Markov-modulated Brownian motion (MMBM) the renewal approach which has been successfully applied to the analysis of Markov-modulated fluid models. It has been shown recently that MMBM may be expressed as the limit of a parameterized family of Markov-modulated fluid models. We prove that the weak convergence also holds for systems with two reflecting boundaries, one at zero and one at
\(b >0\)
, and that the stationary distributions of the approximating fluid models converge to the stationary distribution of the two-sided reflected MMBM. In so doing, we obtain a new representation for the stationary distribution. It is factorised into a vector determined by the phase behaviour when the fluid is either at the level 0 or the level
\(b\)
, and a matrix expression characteristic of the process when the fluid is in the open interval
\((0,b)\)
.