2018 | OriginalPaper | Buchkapitel
3. Fluid-Flow Properties of Fault Zones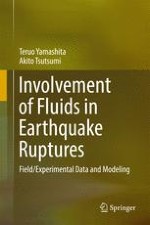 Erstes Kapitel lesen
Autoren: Teruo Yamashita, Akito Tsutsumi
Verlag: Springer Japan
Abstract
There is an increasing recognition of the important role played by the fluid-flow properties of fault zones in controlling earthquake rupture processes. As introduced in Chaps.
1
and
2
, changes in fluid pressure within a fault zone mechanically affect the static and dynamic frictional behavior of the fault. The fluid-flow properties of the fault zone play an important role in determining fluid pressures. Since fault-zone structure is the primary control on the fluid-flow properties of fault zones, quantitative estimates of fluid-flow processes at fault zones require an accurate conceptual model of the fault-zone structure that is coupled with the fluid-flow properties of each of the fault-zone components. Field investigations of fault-zone structures are thus fundamental to obtaining an improved understanding of the fluid-flow properties of faults. The permeability structures of fault zones are highly variable, reflecting the heterogeneous nature of internal fault-zone structures. In this chapter, the generalized structure of a brittle fault zone is introduced and the development of such structure is described in Sects.
3.1
and
3.2
. Section
3.3
provides an outline of the permeability structure expected for the conceptual fault-zone structure model. This section presents the permeability structures observed in natural fault-zone examples and describes the evolution of fault-zone permeability deduced from laboratory experiments.