08.05.2018 | Ausgabe 4/2018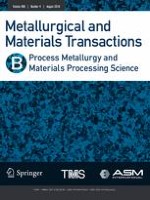 Fluid Force-Induced Detachment Criteria for Nonmetallic Inclusions Adhered to a Refractory/Molten Steel Interface
Zeitschrift:
Autoren:

Uxia Dieguez Salgado, Christian Weiß, Susanne K. Michelic, Christian Bernhard
Wichtige Hinweise
Manuscript submitted November 13, 2017.
Abstract
Since nonmetallic inclusions (NMIs) in steel cannot be completely avoided, a greater understanding of their development and evolution during the steelmaking process is required. In particular, this includes the adhesion of microinclusions to the refractory/steel interface in the flow control system between the tundish and the mold. This phenomenon, commonly referred to as clogging, causes losses in productivity and product quality. Inclusions transported from the bulk melt to the boundary layer may adhere to the refractory/steel interface due to formation of a fluid cavity. A detailed model was derived for the detachment of NMIs adhering to a nozzle wall and is based on the local hydrodynamic conditions combined with the specific interfacial properties in the system consisting of the inclusions, the refractories, and the steel. The model is evaluated for three different application-oriented cases. This study has been focused on providing a better understanding of fluid flow in the near-wall region in order to reduce clogging during steelmaking.