01.12.2009 | Original Paper | Ausgabe 6/2009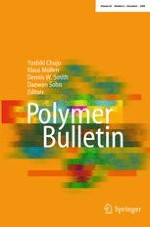 Fluorene oligomer with tetrathiafulvalenes as pendant groups: synthesis, electrochemical and spectroscopic properties
Zeitschrift:
Autoren:

Xue-Chao Zhang, Yu Zhang, Cheng-Yun Wang, Guo-Qiao Lai, Lei Zhang, Yong-Jia Shen
Abstract
An oligomeric fluorene with pendant
TTF
units (
OFT
) was synthesized by the Yamamoto coupling reaction using Ni(COD)
2
as catalyst. The fluorescence spectra of fluorene-
TTF
(
3a
) and
OFT
displayed weak fluorescence intensity because of the photoinduced electron transfer (PET) interaction and energy transfer between the TTF and fluorene, while the fluorescence intensity would enhance significantly after chemical oxidation. The absorption spectra and cyclic voltammetry (CV) showed that an intramolecular interaction existed between the
TTF
and fluorene moieties in
OFT
, while in
3a
such interaction could not be observed, due to the chain propagation of the fluorene backbone and an enhanced internal charge transfer interaction between the two electroactive moieties. Moreover, the conductivity showed that the doped
OFT
possessed a higher conductivity (1.4 × 10
−3
S cm
−1
) than the doped
3a
(9.8 × 10
−5
S cm
−1
). These results demonstrated that
OFT
was a good candidate of fluorescence switches and conducting materials.