2013 | OriginalPaper | Buchkapitel
24. Food Preservation Process Design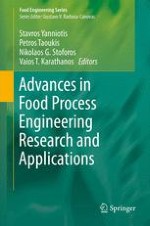 Erstes Kapitel lesen
Autor: Dennis R. Heldman
Verlag: Springer US
Abstract
Preservation processes for food products have evolved over time as more fundamental information about the factors influencing the processes has become available. Traditionally, thermal processes have been used for the preservation of shelf-stable and refrigerated foods. Recently, ultra-high-pressure and pulsed-electric-field technologies have evolved as alternative preservation processes. The overall objective of this chapter is to assemble information on the design of preservation processes, with specific attention to the kinetics of microbial inactivation, the transport phenomenon within the product structure, and the impacts of the processes on microbial populations and product quality attributes.
As safety concerns with refrigerated foods have increased, more kinetic data on microbial survivors during both traditional and alternative processes have been measured and assembled. Recently, new data on the physical properties of foods have been generated, along with predictive models for the transport phenomenon within food products. By integrating appropriate kinetics models with models for the transport phenomenon, the design of preservation processes is being improved and optimized.
This chapter will illustrate steps in the use of appropriate models to ensure desired reductions of microbial populations while improving product quality retention. The models describe microbial survivor curves and product quality attribute retention, while other models describe the transport phenomenon. The application of these models to traditional and alternative processes to optimize the retention of product quality attributes is illustrated.