17.05.2017 | Recent Advances on the Mechanics of Materials | Ausgabe 3/2018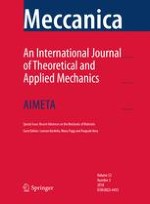 Force constants of BN, SiC, AlN and GaN sheets through discrete homogenization
Zeitschrift:
Autoren:

Alessandra Genoese, Andrea Genoese, Nicola Luigi Rizzi, Ginevra Salerno
Abstract
The force constants related to the bond stretching and angular variation of boron nitride, silicon carbide, aluminium nitride and gallium nitride nanosheets are directly evaluated from
ab-initio
reference solutions of the Young's modulus and the Poisson's ratio. To this end, the analytical expressions of the elastic constants of a generic monolayer hexagonal diatomic sheet are derived, starting from its sticks-and-springs molecular mechanics model, through proper tools of the homogenization of periodic discrete media. Numerical benchmark assessments are given.