2016 | OriginalPaper | Buchkapitel
2. Force–Distance Curves in Practice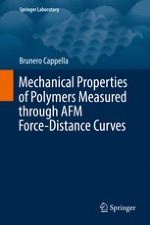 Erstes Kapitel lesen
Autor: Brunero Cappella
Abstract
In this chapter, basic experimental aspects of the use of an atomic force microscope for the acquisition of force–distance curves and the study of mechanical properties of samples are discussed.
In the first two sections, calibration issues (sensitivity, spring constant of the cantilever and radius of the cantilever tip) are treated; also, the colloidal probe technique is briefly presented, and advantages and drawbacks are discussed.
In Sect.
2.3
fundamental aspects of data analysis for force–distance curves are described. Moreover, the most common artefacts affecting the acquisition and the analysis of force–distance curves and in particular of deformation–force curves are listed.
Section
2.4
summarizes in table form the sequence of work steps of an experiment aimed to the measurement of mechanical properties of the sample through force–distance curves.