01.09.2014 | Ausgabe 9/2014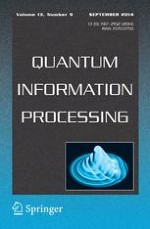 Forgery attack on one-time proxy signature and the improvement
Zeitschrift:
Autoren:

Chun-Wei Yang, Yi-Ping Luo, Tzonelih Hwang
Abstract
This paper points out that in Wang and Wei's scheme (Quantum Inf Process 11:455–463,
2012
), an eavesdropper, Eve, can replace the original message of a proxy signature with a forged one of her choice without being detected by the verifier. Accordingly, one of the security requirements of a quantum signature, i.e., unforgeability, may not be satisfied in their scheme. An improvement is given to avoid this attack, and the comparisons with the existing quantum proxy signature are also demonstrated.