2018 | OriginalPaper | Buchkapitel
Formally Describing Self-organizing Architectures for Systems-of-Systems on the Internet-of-Things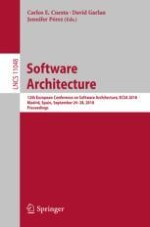 Erstes Kapitel lesen
Autor: Flavio Oquendo
Abstract
Nowadays, the Internet-of-Things (IoT) enables the engineering of Software-intensive Systems-of-Systems (SoS), which are opportunistically created for achieving specified missions in specific operational environments.
A challenging issue in the architectural design of SoS on IoT is to conceive concepts and mechanisms for describing how an SoS architecture is able to create, on the fly, emergent behaviors from elementary IoT systems/devices.
To address this challenge, this paper investigates the theory of self-organization, which makes possible that, in an SoS, its constituent systems spontaneously create and maintain a valid SoS architecture enabling the evolutionary development of the required emergent behavior to fulfill the specified SoS mission. In particular, it describes how SosADL, a formal SoS Architecture Description Language (ADL), based on the novel π-Calculus for SoS, was enhanced to support the architectural description of self-organizing SoSs on the IoT, upwardly causing SoS emergent behaviors at run-time.