01.02.2013 | Ausgabe 2/2013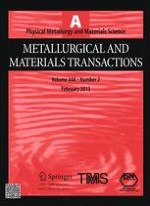 Formation and Phase Selection of Iron-Rich Intermetallics in Al-4.6Cu-0.5Fe Cast Alloys
Zeitschrift:
Autoren:

K. Liu, X. Cao, X.-G. Chen
Wichtige Hinweise
Manuscript submitted May 28, 2012.
Abstract
The solidification structures of Al-Cu 206 cast alloys at a high iron level of 0.5 pct were systematically studied by means of differential scanning calorimetry, electron backscattered diffraction, and transmission electron microscopy. The full solidification sequences of the 206 cast alloys at 0.5 pct Fe were established. The influences of both alloy composition (
i.e.
, Si and Mn contents) and cooling rate on the formation and phase selection of the iron-rich intermetallics have been systematically explored. At a cooling rate of 12 K/min, it was found that one of the three iron-rich phases,
i.e.
, Chinese script Al
m
(FeMn) and α-Fe, or platelet Al
3
(FeMn), may precipitate as the dominant iron-rich intermetallic, depending on Si and Mn contents. However, the dominant Chinese script iron-rich intermetallics, Al
m
(FeMn) and/or α-Fe, can be fully obtained for the 206 Al-Cu cast alloys at 0.5 pct Fe above a threshold cooling rate that can easily be obtained in normal industrial casting conditions, indicating that there is a significant potential of designing and developing new 206 Al-Cu cast alloys with a high tolerant iron content.