29.05.2018 | Ceramics | Ausgabe 17/2018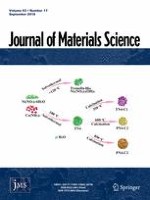 Formation of D–VZn complex defects and possible p-type conductivity of ZnO nanoparticle via hydrogen adsorption
Zeitschrift:
Autoren:

K. Senthilkumar, T. Yoshida, Y. Fujita
Wichtige Hinweise
Electronic supplementary material
Abstract
The hydrogen adsorption on surfaces and on defect sites of ZnO nanoparticles (NPs) has been studied by using Raman and Fourier transform infrared spectroscopic methods. The presence of hydrogen at defect sites bound to zinc vacancy with different coordinations has been confirmed. To further identify the existence of isolated V
Zn
and H–V
Zn
complexes in the ZnO NPs, coincidence Doppler broadening (CDB) spectroscopic studies have been performed with respect to the CDB spectra of a 99.9999% pure Al single crystal. The broad momentum dip
ρ
L
showed between 15–17 × 10
−3
m
0
c suggests the trapping of positrons with the core electrons of 3
p
Zn. However, positron annihilation takes place between
ρ
L
20–25 × 10
−3
m
0
c and this may occur with an electron belonging to OH bonds (V
Zn
–H
i
–O). Here the lattice hydrogen H
+
ion acts as a compensating centre, and it can bind with the V
Zn
around the dislocation and stacking faults (SFs) core, which may produce the acceptor-type complex defect for p-type conductivity. Finally, the existence of SFs and dislocation defects, including edges and steps, was confirmed by transmission electron microscopy.