01.12.2010 | Ausgabe 12/2010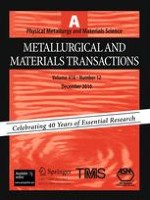 Formation of Liquid and Intermetallics in Al-to-Mg Friction Stir Welding
Zeitschrift:
Autoren:

Vahid Firouzdor, Sindo Kou
Wichtige Hinweise
Manuscript submitted March 8, 2010.
Abstract
In dissimilar-metal friction stir welding (FSW), intermetallic compounds can form in the stir zone and significantly reduce the joint strength. The formation of intermetallic compounds in Al-to-Mg FSW was investigated in lap and butt FSW of the widely used 6061 Al and AZ31B Mg and discussed using the binary Al-Mg phase diagram as an approximation. Temperature measurements during lap FSW indicated a 703 K (430 °C) peak temperature, slightly below the eutectic reaction (Mg) + Al12Mg17 → L at 710 K (437 °C), because the thermocouples were pushed downward during welding. The intermetallic compounds in the stir zone were revealed by color etching and identified by X-ray diffraction (XRD), electron probe microanalysis (EPMA), and transmission electron microscopy (TEM) as Al3Mg2 and Al12Mg17. Additional FSW was conducted near the edge of the upper sheet, and the liquid droplets squeezed out during welding solidified along the edge. Optical microscopy of the solidified droplets and EPMA revealed dendrites of Al3Mg2 and Al12Mg17 and interdendritic eutectics, thus indicating eutectic reactions (Mg) + Al12Mg17 → L (710 K (437 °C)) and (Al) + Al3Mg2 → L (723 K (450 °C)). Differential scanning calorimetry (DSC) confirmed that the solidified droplets melted at 709 K (436 °C) and 722 K (449 °C), nearly identical to the eutectic temperatures. Formation of intermetallic compounds on the order of 1 mm in size suggests they form upon solidification of the liquated material instead of solid-state diffusion.