01.10.2019 | STRUCTURE, PHASE TRANSFORMATIONS, AND DIFFUSION | Ausgabe 10/2019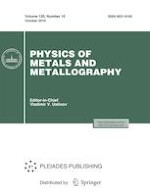 Formation of the Structure and Properties upon Thermohydrogen Treatment of the Alloy Based on Titanium Aluminide Ti2AlNb
Zeitschrift:
Autoren:

A. G. Illarionov, O. G. Khadzhieva, S. M. Illarionova, E. D. Merson
Wichtige Hinweise
Translated by G. Salnikov
Abstract
—Changes in the structure, phase composition, microhardness, and modulus of elasticity upon thermohydrogen treatment of the VTI4 alloy based on the orthorhombic titanium aluminide Ti
2
AlNb alloyed with hydrogen to 12.5 at % have been studied using electron microscopy, X-ray diffraction analysis, and microindentation. It has been shown that the alloying of this alloy with hydrogen leads to a decrease in peak stresses and to an increase in the degree of deformation to the formation of cracks in the course of upsetting at 900°C. The kinetics of dehydrogenation at the temperatures of 600 and 700°C for 4 h in an argon flow and in vacuum has been studied. The thermohydrogen treatment of the VTI4 alloy makes it possible to obtain a thermostable state with a safe hydrogen content with a predominance of the O phase in the structure and high physical and mechanical properties (the Vickers hardness up to 5300 MPa, the contact modulus of elasticity to 114 GPa) after the final dehydrogenating annealing in the vacuum at 600°C for 4 h.