20.08.2018 | Ausgabe 3-4/2018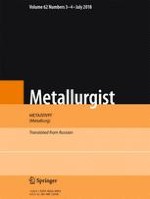 Forms of Zinc Occurrence in Blast-Furnace Dust
Zeitschrift:
Autoren:

E. N. Selivanov, S. N. Tyushnyakov, A. A. Pankratov
Wichtige Hinweise
Translated from Metallurg, No. 3, pp. 35–39, March, 2018.
Results are given for a study of the phase and elemental composition of EVRAZ Nizhny Tagil Metallurgical Plant blast-furnace flue dust. An estimate of particle size is performed in a laser analyzer. Dust is represented by a set of particles of calcined charge with sizes from 1.5 to 1170 μm, with a median size of 82.9 μm. The elemental composition of the blast-furnace dust in local sampling points is determined by x-ray microanalysis. The dust consists of large iron oxide particles and fine particles containing MgO, CaO, SiO2, and Al2O3 in the form of complex silicates and ferrites, as well as inclusions of mechanically entrained coke. Zinc is present in form of oxide, sulphide and sulfate compounds as a surface layer on particles with increased thermal conductivity (FeOx). The zinc and sulfur contents in the layer (1–5 μm) reach 45 and 6%, respectively. The data obtained are useful for substantiating dust treatment processes.