2018 | OriginalPaper | Buchkapitel
28. "Foundation Stones of Spirituality" (Second Movement)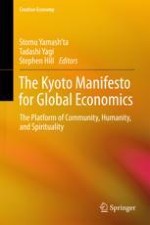 Erstes Kapitel lesen
Autoren: Stephen Hill, Stomu Yamash'ta, Tadashi Yagi
Verlag: Springer Singapore
Abstract
Chapters in the Conclusions Suite overview the evolving argument of the book, represented in the previous 'Movements' of the argument's Symphonic form.
Chapter 28's summary of the
Second Movement
takes the reader to the depths of our humanity, and its relationship to our world and wider cosmos, as a core platform for exploring human power embedded in our spirituality. That this is the "Kyoto" Manifesto is deeply significant, for Kyoto—the place—is foundation of Japan's "spiritual heart", whilst demonstrating in the modern age the human craft and creativity that has evolved over more than a millennium and is represented in many generations of family production. These lessons from Kyoto can instruct our action now. Each of the International Symposia from which the Manifesto was constructed were preceded by an "On-Zen" performance within joint Shinto/Buddhist temple ritual by Stomu Yamash'ta—of sacred music using, as percussion instrument, the unique and sacred 'sanukite' stone. This stone was employed in ancient pre-Bronze Age ritual and music because of its extraordinarily large frequency range and vibrant sound. As performances to bring people together in peace, the sanukite stone performances allow us to hear, in Stomu's words, "the grandeur of memorial vibrancy", a connection between the energy of nature generated from the Void and the harmony of our humanity. This force and connection is then explored in the
Second Movement
of the book and validated from the latest advances in cosmic physics and relations to the long-term teachings of Buddhism. In both physics and Buddhism, the 'Void' or 'emptiness' is the state of impermanence and change but at the same time the heart of energy which generates everything in the real world. Chapter 28 then goes on to demonstrate the implication of these phenomena for social arrangements, specifically in 'vernacular democracy' in rural India—a world where equality and diversity can stand together.