2015 | OriginalPaper | Buchkapitel
6. Fractals and Mechanics of Fracture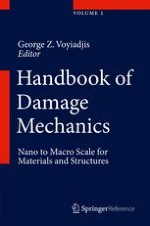 Erstes Kapitel lesen
Autor: Michael P. Wnuk
Verlag: Springer New York
Abstract
Classical mechanics including mechanics of fracture is often unsatisfactory when a solution predicts a singularity and the need arises to interpret the underlying physical meaning or lack thereof. A customary practice to deal with the singularity problem is to exclude a small region near the singular point, for which a different constitutive law – usually nonelastic – is postulated. This approach is adequate provided that the stress field outside the singular region is dominated by the elastic behavior. An alternative approach that successfully resolves problems involving singularities is the averaging process, also known as the quantization procedure – or – equivalently, discretization of the condition of the minimum of the potential energy of the system. In addition to the constitutive law, a certain "rule of decohesion" must be incorporated into the theory of fracture. An example of such a rule is the δCOD or the so-called "final stretch" criterion employed to describe the onset and the stable growth of a crack contained in a ductile solid. This criterion generalizes the well-known criteria of Griffith, Irwin–Orowan, Rice, and Wells.
Success of the novel approaches is particularly remarkable in the nanoscale domain, where the fractal geometry of cracks and the quantization rules need to be combined in order to describe adequately fracture processes at the lattice and/or atomistic level. Discrete cohesive crack representation with the fractal geometry incorporated into the mathematical model appears to produce most straightforward and useful results. Application of the Wnuk–Yavari correspondence principle relating the fractal and smooth blunt cracks demonstrates that even a minute amount of roughness of the crack surface is sufficient to cause a drop in the maximum stress measured at the tip of the crack from infinity to a well-defined finite value.
Early stages of fracture and the pre-fracture deformation states associated with a stable propagation of a subcritical crack in viscoelastic and/or ductile solids are described in some detail. The initial stable growth of crack manifests itself as a sequence of the local instability points, while the onset of catastrophic fracture corresponds to attainment of the global instability. The locus of these critical states supplants the Griffith result. Only in the limit of ideally brittle material behavior that both results, the present one and the classic one, coincide.
In the present review, introductory concepts of fractal and quantized fracture mechanics followed by the studies of delayed fracture in viscoelastic solids and the instabilities occurring in the process of ductile fracture are discussed.